Mojo Barriers launches its brand new reinforced barrier system 'High Fence' to the UK events sector at the Event Production Show on stand EH40, London, Olympia, February 18-19.
Consisting of 1m wide and 2.4m high sections, the reinforced aluminium barrier system allows event organisers to create robust restricted zones, with transparent upper sections for good visibility, which and can be adapted with black or white for private areas.
It is far more robust and aesthetically attractive compared to the usual 'wire style' fencing and similar type of barricade used at live events. Doors and gates are also available which integrate seamlessly into the barrier line, to ensure fire safety and access and egress regulations are met. It and is primarily available to hire as a temporary solution.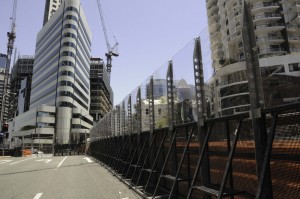 Designed and manufactured in line with the high specifications of the organisers of the G20 Leaders' Summit in Brisbane, 2.5k (2,500m) of the product is now available to the international festival, tour, concert and live event industries.
Cees Muurling, managing director at Mojo Barriers, explains: "High Fence is quick and simple to build, exceptionally strong and durable and the clear upper section gives security personal uninterrupted views of the surrounding areas.
"The product underwent extreme testing against pressure, fire arms, chainsaws and even bombs. It was proven to be extremely strong and is the ideal solution for events and occasions where crowd and structure segregation is an integral part of the crowd management process."
Mojo Barriers UK manager Kevin Thorborn will be on the stand throughout the show to introduce the product to the UK, along with answering any query's relating to any event crowd barrier and crowd management products and services available from Mojo.