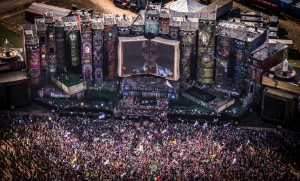 Mojo Barriers' US office kept the crowds safe at the inaugural TomorrowWorld, as the event set new standards in electronic dance music (EDM) festivals, 26-29 September 2013.
TomorrowWorld is the newly-launched sister festival to Belgium's epitomes Tomorrowland, an EDM event which every true fan of the genre has visited, or wants to visit. Nearly 300 artists performed at the highly-anticipated first international edition including Calvin Harris, AfroJack, David Guetta and Armin van Buuren.
Organisers Backbone International engaged Mojo Barriers at the early stages of planning to supply 146m of its aluminium stage barricade for the main stage. Mojo's experienced crowd control team designed a configuration that included an unobtrusive thrust from the centre of the main stage barricade line, offering added protection to the 45,000 strong crowds.
Mojo Barriers' project manager Jordi van Berkum said: "A thrust works by breaking up the crowd, easing pressure which was vital for this event where everyone was going to be dancing and moving around a lot. We used an additional 80m of barricade to safely section off the camera platforms and front-of-house tower."
In total, Mojo Barriers installed equipment across 20 different areas of the huge festival site which totalled over 3,800 acres in the rolling landscape of Bouckaert Farm along the Chattahoochee River in Atlanta.
Jordi continued: "A large part of this project was also our bar barriers; we installed over 315m for food and drink vendors, alongside the main stage configuration. It was huge logistical undertaking, with the site being so spread out. Careful attention and planning was needed."
Backbone International have since contracted Mojo Barriers' US to deliver crowd control products and services to all of its North American and Canadian 'Sensation' events, a global series of events bringing together dance fans – united wearing the colour white – with some of the hottest names in the genre.
"The organisers of TomorrowWorld put a tremendous amount of effort into creating something you've never experienced before, with out-of-this world decor, entertainment and experiences," Jordi concluded. "It's fantastic to be involved with such an exciting event and we look forward to seeing how it grows in the future, and working with them across their wider portfolio."