Mojo Barriers supplied its patented stage barriers to The National Bowl, as Pearl Jam and Electric Daisy Carnival brought two days of music to Milton Keynes, July 2014.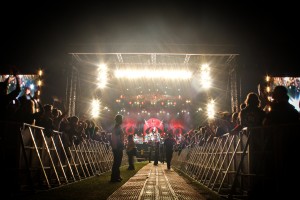 The action began on Friday 11th July as one of the world's biggest rock bands, Pearl Jam, marked the end of an 11 date European tour. Crowd control specialists Mojo Barriers installed 500m of aluminium barriers into the bowl on behalf of client Live Nation, configured in a thrust catwalk leading to front of stage and giving security personnel easy access to crowds. 
The venue was then transformed overnight, as a sell out crowd of 60,000 enjoyed a stellar DJ line up for Electric Daisy Carnival (EDC). Now in its second year, the concert moved to the higher capacity venue as Mojo Barriers returned to work with Live Nation to deliver the optimum barrier configuration to ensure crowd safety.
Additional stages were introduced into the venue, and the concert impressed audiences with its signature EDM creative elements, including state-of-the-art production and special effects.
On the same weekend, Mojo Barriers was entrusted by Metropolis Music to deliver a bespoke crowd safety configuration at Wembley Stadium, for Eminem's sold-out gig to 80,000 fans.
Mojo Barriers UK general manager Kevin Thorborn, said: "The sheer magnitude of the audience meant we configured 500m of aluminium barriers to incorporate a 150m security walkway. The barriers were dispersed across a primary barrier, inner secondary, outer secondary and four delays."