Mojo Barriers was called upon to supply the main stage barrier, high fence and line-up gates to this year's Sziget Festival, which welcomed an increased capacity of over 90,000 people per day, 10-17 Aug.
Budapest once again played host to the week-long Sziget Festival, one of the largest music and cultural festivals in Europe, which this year boasted performances from Muse, Sia, Rihanna and Bastille. Following on from the success of its inaugural year supplying Sziget Festival, Mojo Barriers was once again called upon to supply 400m of barrier, 50m of High Fence and 20 line-up gates to the 2016 event. As well as stage barrier within the main stage arena and line-up gates throughout the festival site, Mojo also supplied its high fence to the main stage front-of-house in order to enhance security and improve the aesthetics of the structure. With a crew of 10-12 people, protect managed by Mojo's Rik Beulink, the install took one day.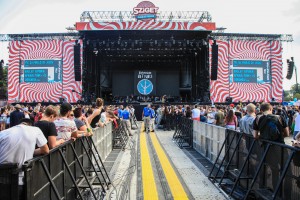 Mojo Barriers' Stanley Jilesen commented: "We first worked with Sziget Festival in 2015, introducing a breaker fence to the main stage to break up the audience and keep the pressure off the people at the front. This is something the organisers are really impressed with and it's worked really well to enhance the experience for the audience and help keep them as safe as possible.
"We're also on-hand throughout the event to make any modifications to the barrier configuration or supply any additional equipment. Two days ago Daniel called me and needed some line-up gates, so half an hour later the equipment was in a truck and on the way from Holland to Budapest. We always leave a project manager on site in case any changes are required, or if a band wishes to bring in some extra set which affects the barrier layout, such as a catwalk, and having one of our team on site means this can be quickly accommodated. It's great to work on such a progressive festival, one which has such a brilliant team and which is constantly evolving, and we look forward to building on our relationship in the future."
Daniel Benis, head of production commented: "Over the last few years, we have used barriers from our existing partners but couldn't beat the quality of Mojo Barriers neither in the equipment side nor on service side. In the last few years nearly all riders have placed greater emphasis upon crowd controlling issues and Mojo Barriers are now seen as a standard, so we had to step up. Mojo's services and equipment has solved all our problems, and any incoming production manager knows what they are getting when they see Mojo Barriers. Regarding the Hungarian regulations and crowd controlling issues, we had to find a solution to help improve the circulation of the crowds, in terms of normal flow and also in case of heavy crowds. Our security teams were also really satisfied with this."