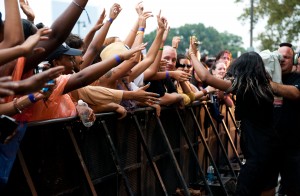 Mojo Barriers US office broke its company record, supplying 800m of its aluminium stage barriers to Made in America Festival, Philadelphia, 1 -2 September 2012.
The US crowd barricade specialists provided its largest single rental to date with the length of barriers supplied totalling over the height of eight Statues of Liberties. Its team designed and installed a bespoke configuration to keep the 100,000 festival goers safe as they enjoyed acts including headliners JAY Z and Pearl Jam.
Barriers were provided across all four stages and other sensitive areas throughout the festival site which was located in the Benjamin Franklin Parkway, a busy downtown location. The main stage was located in front of the Philadelphia Museum of Art.
J.B Dolphin, Mojo Barriers US President, says: "We extended our crowd control barriers from the main stage across the street and into the park on the opposite side of the site. Our new curb jumper special adapter allowed us to transition the barrier sections from the sidewalk down onto street level while maintaining both the strength of the entire barrier system, and a seamless connection."
High levels of traffic and conflicting events meant that Mojo had just twelve hours to complete the build, working closely with client Live Nation to ensure a smooth load in.
Mojo Barriers lead supervisor for the project, Jack Hayes, comments: "This would have to be one of the most unique builds on record for Mojo's US office. I felt like I was working in a fishbowl as the general public and traffic was not closed off from the site until 12 hours before the gates opening and we had to contend with downtown traffic.
"At times it felt like the Daytona Speedway qualifying rounds were happening at the same time as the festival and turns one and two fell between Front of House and Main Stage, where we needed to install the majority of our gear. At about 7pm the road was finally closed so we could complete the build. Despite the tight turnaround it was a great success."