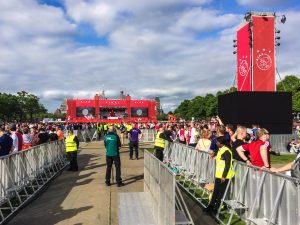 As thousands of Ajax fans gathered to watch the Europa League final, Mojo Barriers ensured crowd safety within Amsterdam's famous Museum Square.
With previous events in the park attracting crowd problems, The Mayor of Amsterdam, Eberhard van der Laan, wanted to create a safe and special environment for fans to watch the Europa League final between AFC Ajax and Manchester United.
Mojo Barriers was entrusted to create fan zones for 80,000 fans at Museum Square, which included multiple big screens to watch the game and a victory stage next to Rijksmuseum. Mojo's team installed five trucks of material including 750 straight barriers, 27 mega exits, 120 specials, 40 police gates and 40 line-up gates.
Mojo Barriers' Erwin Sprengers comments: "I'm extremely proud of the whole Mojo team who delivered quality and speed, and pulled together to help ensure the event was a huge success."
Client: Livetime Productions. Production manager Maarten Lamers.