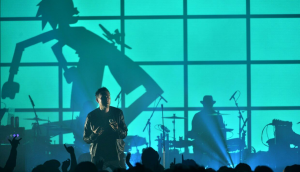 To mark the launch of their highly anticipated new album 'Humanz', Gorillaz performed a secret one-off show at Printworks, London, and Mojo Barriers showed it's not all about big tours and festivals by supplying its world-class stage barriers to this prestigious event, 24th March 2017.
The world's most successful virtual band celebrated the release of their new studio album with a very special performance which saw Gorillaz play 'Humanz' live for the first time in a ''triumphant comeback gig'' (NME) supported by Telekom Electronic Beats.
As the Gorillaz live band took to the stage, Mojo Barriers ensured artist and audience safety, highlighting that a big artist launch in a small venue still needs detailed attention. Held at new London venue, Printworks, the show saw Gorillaz joined on stage by a stellar rollcall of talent including Del La Soul, Pusha T and Noel Gallagher. Mojo Barriers ensured the safety of the audience and the band by providing a complete barrier and cable cover set, which included straight barrier sections, flex corners and snakegates. Mojo worked closely with the production team to install a barrier configuration that matched the contour of the stage and front-of-house area, and offered optimum safety. 
Stanley Jilesen, Mojo Barriers project manager commented: "We've worked with Gorillaz production manager, Joel Stanley, on previous events and it was great to work with him on such an exciting and highly-anticipated launch. Even with the event being held in an intimate venue, the prestige of the band and the calibre of acts they collaborated with on the night meant that the event required detailed attention to ensure the wellbeing of the crowd, the band and the front-of-house team. We worked closely with the production team to ensure the equipment and configuration we supplied did just this, and it was great to be involved in this very special Gorillaz show."
Gorillaz production manager, Joel Stanley, commented: "As always, Mojo have been crucial in the show and a pleasure to deal with, always flexible and amazing value."