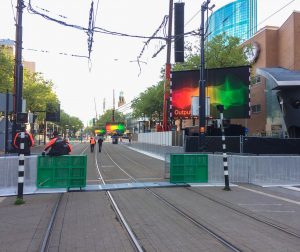 Mojo Barriers ensured over 150,000 fans could celebrate in style when Feyenoord won its first Eredivisie title in 18 years.
Six trailers and 24 Mojo crew installed over 1,750m of crowd barriers including 27 mega exits, high fencing and barrier corners in the centre of Rotterdam in preparation for Feyenoord's victory parade. Feyenoord's first Dutch title win since 1999, came after a defeat by Excelsior on 7th May, in which the title could have been claimed.
Mojo Barriers' Erwin Sprengers explains:
"Feyenoord could have won the league on the 7th May, so we were called in to ensure crowd safety at the victory parade, which took place in central Rotterdam. The night before the match, we installed 1,750m of crowd barriers which lined the main roads and secured the government building where the local Mayor is located. With numerous big screens and players on the Mayor's balcony, we created 11 crowd zones to limit surges and closed the main road and tram route in preparation. Following Feyenoord's defeat, we had to de-rig throughout the night without there being an event.
"With the Dutch league title race coming down to the final day of the season at the Feyenoord V Heracles game, we re-installed all the kit in preparation for their win. With Feyenoord being crowned champions, the atmosphere was incredible and the victory parade attracted over 150,000 fans who all took to the streets of Rotterdam to celebrate with their team and see them lift the Eredivisie shield. It was a pleasure to work with Livetime Productions' production manager, Maarten Lamers."