Mojo Barriers kept the crowds safe at the Netherland's oldest festival, Pinkpop, as it celebrated its 45th year and the biggest line up in its history.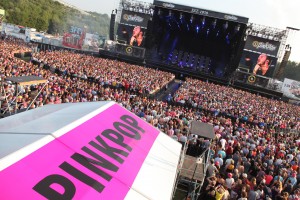 Headliners Rolling Stones, Arctic Monkey and Metallica all took to the stage across the three nights (7-9 June).  Each act had its own bespoke production and the Mojo Barriers team worked through the night to reconfigure the main stage barrier layout to meet requirements.
Utilising 485m of straight aluminium barriers and supporting specials such as gates and corners, Mojo created a thrust layout which followed the line of the Rolling Stone's catwalk, bringing Mick Jagger et al closer to the crowd.
For Arctic Monkeys the catwalk thrust was removed, replaced with two golden circles. For Metallica, their infamous snake pit was welcomed back, putting lucky fans right in the middle of the action.
With 70,000 people in attendance, and such a diverse demographic, it was vital to have control of the number of people at the main stage.
Mojo Barriers' project manager Erwin Sprengers explains: "For all three configurations we integrated 20 of our Gatekeeper 2.0. Ten on either side of the stage counted people in and out the golden circles, ensuring audience safety by guaranteeing that capacities were not exceeded.
"The Gatekeeper lets you set a limit on a central computer and control when the turnstiles open. For Pinkpop, six people needed to leave before another six could enter."
A further two Gatekeepers were used on a newly-introduced activation for the beer company 'Brand'. The company installed a huge beer crate themed structure with capacity for 100 people on the roof, giving unparalleled views of the festival's impressive vista. The Gatekeepers were a vital tool in ensuring safety procedures and capacities were controlled.
The festival also introduced a fourth stage for the first time, increasing the total amount of barriers provided by Mojo to over 1,100 across the main festival site, bars and campsite.