Mojo Barriers supplied 75m of barrier and 20 Vario Corners to the UK and European tour dates of Macklemore & Ryan Lewis' latest tour, April 2016.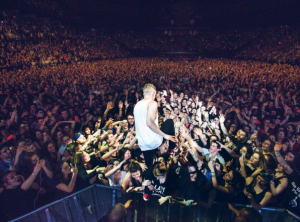 Following the release of their album 'This Unruly Mess I've Made', Macklemore & Ryan Lewis embarked on their first tour in two years. The impressive production saw the creation of a bespoke stage design which facilitated their energetic performances and enabled them to get as close as possible to their fans.
Due to the complex shape of the stage 75m of barrier and 20 Mojo Vario Corners were required to give flexibility when it came to matching its shape and contours, whilst ensuring the upmost safety at the UK and European dates.
Mojo Barriers UK manager Kevin Thorborn commented: "This is the first time we have worked with Macklemore and production manager Chris Fussell, and they are extremely knowledgeable of our products. We dry hired our barriers, meaning we didn't need to supply any crew with the tour; however we were on hand throughout to answer any questions that arose. The effort that went into the production was huge and this really shines through, it's been a really great tour."
Photo credit: Zoe Rain