Mojo Barriers launches its new reinforced barrier system 'High Fence' to the European events sector at Eurosonic Noorderslag, 15 January.
High Fence is an exceptionally strong and durable reinforced aluminium barrier system, with a Polycarbonate upper section that can be adapted transparent, black or white. It allows event organisers and venues to create robust restricted zones such as stage access areas for artists, either giving security personal and the audience uninterrupted views, or creating complete sight line kills.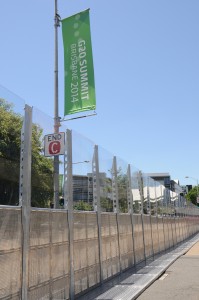 Mojo's extensive range of compatible doors and gates are also available, which integrate seamlessly into the barrier line, to ensure fire safety, access and egress regulations are met. It is aesthetically attractive and safe, with increased strength compared to the traditional fencing methods and similar types of barricade used at live events.
Designed and manufactured to Mojo's high standards and in line with the high specifications of the organisers of the G20 Leaders' Summit in Brisbane, 2.5k (2,500m) of High Fence is now available to the international festival, tour, concert and live event industries.
Cees Muurling, managing director at Mojo Barriers, explains: "High Fence is the ideal solution for events and occasions where crowd and structure segregation is an integral part of the crowd management process.  It will allow organisers to create secure areas, with the option on clear sightlines or 'private' screening. Consisting of 1m wide and 2.4m high sections, High Fence is quick and simple to build. It was proven to be extremely strong – in Australia it underwent extreme testing against pressure, fire arms, chainsaws and even bombs . . . which we hope are extreme measures it will not be subjected to again!"
Attendees of Eurosonic can visit Mojo Barriers at the outdoor EPIC fair area.
Follow Mojo Barriers on Twitter @mojobarriers