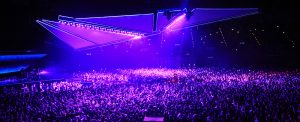 Mojo Barriers UK office has continued its winter touring season with a busy start to the year supplying its specially designed touring barrier to three major tours, January 2017.
Avenged Sevenfold kicked off their European arena tour on January 10th at Glasgow's SSE Hydro. Collaborating with the team behind Cirque du Soleil, the band took their stage production to the next level with projection mapping, giant inflatables and impressive visuals. Mojo Barriers supplied almost 100m of equipment for the UK and European tour dates, with a barrier configuration that contoured the additional thrust and B stage.
Mojo Barriers is also supplying an arena sized stage barrier system to all the UK and European tour dates of Kings of Leon's 'Walls' tour, starting on the 15th February at the Laxness Arena in Cologne. Mojo is also supplying the European and US legs of The Weeknd's Starboy: Legend of the Fall Tour which will begin on the 17th February at Stockholm's Ericsson Globe. With an impressive catwalk stage, Mojo is installing a number of supplementary products including diamond plates, vario corners and flex corners, to ensure the barrier configuration matches the contours of the stage.
Kevin Thorborn, Mojo Barriers' UK manager commented: "The touring market has always been an important one for us at Mojo Barriers, both internationally and in the UK, and we've witnessed major growth in this area over the last few years. As tours push the boundaries when it comes to stage shows and production we've seen an increased demand for our specifically designed touring barrier, which offers a more tour-friendly product whilst maintaining the highest levels of structural integrity and safety."