Mojo Barriers, the world's first stage barrier, was one of the few originals on display at this year's Glastonbudget Festival, the first of four new independent festival contracts completed in the summer of 2015. 
Glastonbudget is Europe's largest tribute and new acts festival and this year it took place in Wymeswold, Leicestershire from the 22nd-24th May 2015. Mojo Barriers supplied 125m of barriers, with six flex corners and five pedestrian gates for the three day festival, which saw 160 acts perform across seven stages.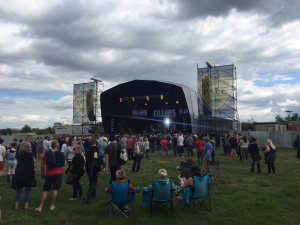 Kevin Thorborn, Mojo Barriers' UK manager said: "Here at Mojo Barriers, we're well known for our work with big festivals and tours, and we've supplied to the original artists being covered at Glastonbudget. But we also do lots of work within smaller festivals which is an area that we're expanding into so 2015 marks a notable increase in our work with independents. This year we'll be providing barriers to Boomtown Festival, 51st State and Found Festival and whatever the size of festival, the safety of the artists, audience and crowd is sill paramount." 
At this year's Glastonbudget Festival, the audience safely enjoyed headliners Toyah Wilcox and Leicester legends Kazabian, along with a host of the UK's best tribute acts, including Oasish, Not the Rolling Stones and Coldplace.