Mojo Barriers overcame tight build timeframes and tricky site conditions to ensure the crowd safety at this year's Shaky Knees Festival, as fans rocked out in Central Park, Atlanta, Georgia from 8th-10th May. 
Mojo Barriers was contracted for the first time. The successful debut saw the installation of over 700m of barricades across five stages, with 200m securing the main stage alone.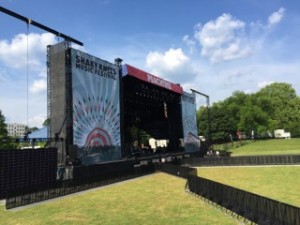 JB Dolphin, Mojo's US president, said: "The event site is beautiful but creates some challenges when it comes to access to the main stage and the second stage. 
"The second stage's location was quite sandy, so extra consideration was taken while deploying barrier to minimize impact on the grounds itself. We implemented a regimented load-out strategy to ensure all stages were barrier free by 12:45am, allowing for production de-rigging to occur smoothly. Sit assessment and planning prior the event is key to keeping everything on time." 
The festival saw an increase in visitors as each day went on, and during the headline act crowd numbers reached over 25,000. Mojo Barriers consulted with event Producers on the design of the barricade configuration at each stage to ensure they accommodated for the sudden increase. 
Mojo's barricades were used to create special VIP pits at every stage, factored into the configurations to ensure they didn't impede sightlines for general admission. At two of the stages, mega-exits were also deployed, which consisted of two doors with an opening span of three metres, to ensure quick exit possibilities and give access to emergency vehicles or trucks. 
JB continued: "We were hugely excited to be supplying our first ever Shaky Knees Festival  and we hope this will be the first of many. The time crunch between shows meant everything had to stick to plan and we were well prepared to make any adjustment that was necessary. We were really keen to make sure the audience could be as close to the stages as possible, whilst allowing for the proper installation of the barricades so that the crowd was safe from pinch points." 
Following the success of their Shaky Knees debut, Mojo Barriers will be supplying its crowd safety barricades at the Shaky Boots Festival, which will take place on the 16th & 17th May.