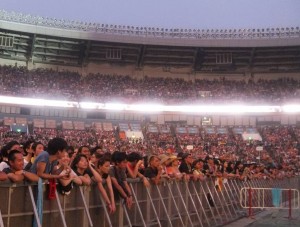 Some of the hottest temperatures in Japanese history didn't deter festival-goers as they flocked to this year's Summersonic, where Mojo Barriers once again provided its patented barrier system to keep the crowds safe, 10-11 August 2013.
The annual event has been running since 2000 and takes place in Tokyo (East Japan) and Osaka (West Japan) simultaneously, pulling in crowds of up to 120,000 per day.
With acts as diverse as Metallica, Linkin Park, Fall Out Boy, Stereophonics, Gabrielle Aplin and Two Door Cinema Club plus local bands, the audience demographic varies widely, requiring careful attention when it comes to predicting crowd movement. 
The contract was delivered in partnership with ESS Japan, one of the country's leading stage specialists, which has worked with client Creativeman – one of Japan's top promoters – for the last decade. Mojo Barriers have supplied its products to the festival since 2008. 
ESS Japan's shared vision and emphasis on high-quality service made the company the ideal partner to permanently stock over 600m of Mojo Barriers' trusted aluminium barrier (mostly located in the Tokyo region). This is supported by Mojo Barriers' head office team in The Netherlands advising on optimum configurations to ensure the safest possible event.
This year over 470m of barrier were installed across both sites' main stages, overseen by ESS Japan's director Ryoji Kanetsuki. ESS Japan's dedicated staff were on-site at both event-sites supervising the installed barrier configuration.
Leon van der Velden, account manager for international distributors at Mojo Barriers, comments: "Mojo Barriers is very proud of the long-lasting partnership and commitment that we have with ESS Japan. Throughout the past years we have seen a big increase in crowd management awareness, and we are glad to be involved in offering safer solutions for the audience, artists and crew. We're looking forward to continuing this cooperation and offering our constantly improving products and services to the Japanese market."
Summersonic is one of Creativeman's top events, with other recent projects including Springroove Punkspring and Sigur Ros. The company lists Backstreet Boys, Alicia Keys & One Direction for its future events.  
Ichiro Aono, executive director, Creativeman, said: "We were interested in using barriers at Summersonic for crowd control safety and Mojo Barriers were the perfect choice through ESS Japan."