As R&B sensation Usher hit the road for his much anticipated world tour, Mojo Barriers was called upon to ensure crowd safety at the US and European tour dates. 
The tour, titled 'The UR Experience', kicked off in Montreal, Canada, in November 2014 and finished in spectacular style at the O2 Arena in London on March 26th 2015. The tour spanned the globe, visiting countries from the US to New Zealand and stopped at 23 European cities during its final leg. Usher's support act came in the form of fellow R&B favourites Nico & Vinz. 
Mojo Barriers was entrusted with supplying the safety barriers to span and protect all aspects of the stage, including the catwalks. Working to CAD drawings, Mojo provided 32 Mojo straight barrier sections, two 1.5m Mojo doorsets, two Mojo snake gates, eight 45⁰ degree corner sections and two vario corner sections. This varied equipment list allowed production to create a complex configuration, which followed the contours of the stage perfectly.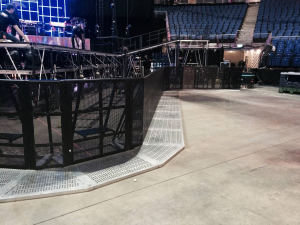 The US leg of the tour was seated, with the barrier set up adjusted accordingly with Mojo's US office supplying an additional six heavy duty cable ramps, which can be quickly and easily positioned to prevent damage to cables. 
Stanley Jilesen of Mojo Barriers, comments "Safety barriers are the only part of your set the fans can touch and are the font-line between a performer and the screaming crowd. Artists are placing an increasing importance on ensuring their safety barriers are of the highest standard and are now carrying these with them to every leg of their tour, instead of using local suppliers. This way integrity and trust of equipment can be ensured across every event date." 
Usher is one of the best-selling artists in American music history, having sold over 65 million records worldwide and thanks to help from a great team of suppliers including Mojo Barriers, his tour was a huge success.