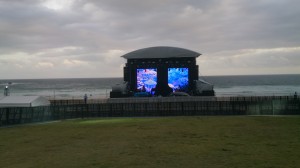 Mojo Barriers' Australian office played a vital role to ensure the safety of the hundreds of thousands gathered for Australia's spectacular New Year's Eve firework display around Sydney's Harbour Bridge, 31st December 2013.  
As one of the first countries in the world to celebrate the arrival of New Year, millions tuned in to watch Australia's iconic fireworks display unleashed at midnight at the Sydney Opera House and Harbour Bridge.  In addition to the worldwide media attention, an estimated 1.6 million people descended on the Sydney Harbour Foreshore to celebrate the start of 2014.
For the first year, Mojo Barriers was commissioned to work with the police and security to close off the busiest areas of Sydney, the Opera House and The Rocks, in preparation for the crowds congregating in these prime viewing areas for the countdown. Jason Craig from the Sydney Harbour Foreshore Authority (SHFA) and Travis Semmens and Jason Foster from ACES Security, were in charge of all onsite security operations. Mojo worked with them to determine the optimum positions for the barrier system which included the company's new high fences and Mega Exit Gates.
Mojo Barriers utilised its crowd control systems in both the East Circular Quay (ECQ) and George Street; both popular areas for people to watch the fireworks display. The Mojo team identified safety barrier configurations, using its 3m Mega Exit Gates, 1.5m gates and 1m gates. The team also installed its new high fence system. Measuring 2.4m high it provides sightline protection and meant signage was fixed securely above head height to be seen by the whole audience. It has been specifically designed to allow access for large emergency vehicles and as emergency exit points for large crowds.
Craig Edwards, Mojo Barriers' Australian account manager, commented: "This was a huge job for us as the Sydney NYE fireworks is seen across the world and attracts hundreds of thousands of people to the real casino online for real money harbourside. This makes it paramount for us to ensure each area has full emergency access and crowds are maintained within the set safety limits.
 "Each location presented its own challenges, from getting the equipment onsite to working safely and efficiently in crowded environments. The East Circular Quay has very uneven surface with sudden drops and was constantly crowded, which we had to factor in when planning build logistics.
"Campbell's Cove and Dawes Point, located just 300m from each other, didn't allow for any fork lift access so we had to hire an eight tonne truck with a tail lift and wheel dollies by hand to transport all the gear. Despite this, each area was completed on time and to the highest standards with no complications arising on the night."
Continuing its work across Australia, Mojo Barriers was also contracted to supply 230m of barrier across four crowd break lines for Sydney's annual festival, Shore Thing. Located on Bondi Beach, Mojo utilised its Guide Pin System to ensure each barrier was placed securely on the uneven grass surface. Elsewhere in the country the team was contracted to provide its crowd safety services for Wet 'n' Wild NYE, NYE Fed Square celebrations in Melbourne, Falls Festival in Byron Bay and Lorne Victoria, as well as Field Day Sydney and Beach Life Festival.