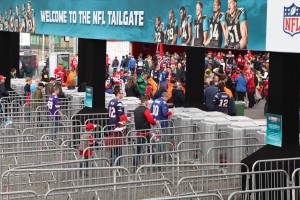 Mojo Barriers unveiled its new 'Gatekeeper 2.0' for the first time in the UK at the NFL Tailgate Party, Wembley, Sunday 27th October 2013.
The crowd control specialists used the intelligent turnstile system to keep an accurate count of the 30,000+ NFL fans as they made their way onto Wembley's car park where the event was held. The 36 Gatekeepers were used to create a solid entranceway to the site, with two more used for VIPs.
Kevin Thorborn, Mojo Barriers' UK general manager, comments: "The Gatekeeper 2.0 allows event organisers to gather accurate, real-time data on crowd flow and movement, ensuring their maximum capacity isn't exceeded. For sites such as this one, with no existing infrastructure, it's an ideal solution, giving a practical, attractive entranceway and access to important health and safety figures."
For this event the Gatekeeper 2.0 was used just for counting crowd numbers, linking to Mojo Barriers' specially-developed centralised computer system. The Gatekeeper can also incorporate scanning technology including RFID, QR and bar codes, offering a one-stop entrance solution for event organisers, as demonstrated at the 50,000 capacity Graspop Festival in Belgium earlier this year.
Kevin continues: "With the rise in RFID technologies and mobile phone QR codes we see the future of events moving into digitalised ticketing; the lure of data and marketing/social media integration has a wide appeal commercially as well as the practicality of having an entrance/exit system which is self-sufficient. The Gatekeeper 2.0 offers the hardware to host these scanning technologies and make them practical and easy to deploy on an event site. It reduces fraud and cuts down on the need for as many security staff as they are no longer required to manually scan tickets."
Laura Armstrong, senior production manager at Wasserman (previously Ignite), which organises the Tailgate on behalf of the NFL, commented: "We have organised two Tailgate's this season, each in a different location around Wembley Stadium, and we have three next year. It can be difficult to predict how many people are going to attend – it's very much dependent on external elements such as the weather. 
"The Gatekeeper allows us to get accurate information and real time data every hour of how many people have entered the site, which helps to understand both fan demographic and traffic. Having this constant knowledge is extremely reassuring, both on event day to ensure we don't exceed capacity, but also to shape the future of the event. It helps make the whole process smoother."
The Tailgate Party gave fans a chance to see game demonstrations, NFL cheerleaders, experiential activities from sponsors and partners and enjoy food and drink before the game. The event is the UK version of the traditional US Tailgate which sees American fans BBQ-ing in stadium carparks pre-game.
Later that evening the San Francisco 49ers scored six touchdowns during a 42-10 victory over the Jacksonville Jaguars.