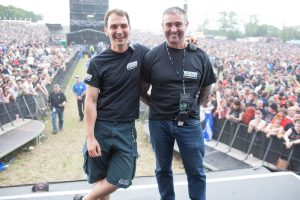 Mojo Barriers was contracted to install over 2,000m of front of stage barriers and bar barriers at three Download Festivals in the UK, France and Spain, June 2017.
Each country's Live Nation division were the promoters and clients, bringing in Mojo to keep rock fans safe through three days of performances by the world's top rock bands.
It was a welcome return to Donington Park's Download weekend, June 9th to 11th, in the UK for Mojo with Jim Gaffney, heralding Jim's return to the company as a senior account  manager.  Jim explained:
"I have managed the design and installation of the stage barriers at Download Festival since it began in 2003, where Mojo Barriers has always been the system of choice. I enjoy a great relationship with the Festival Republic team supporting Live Nation, it's always been a high priority for Melvin Benn and John Probyn to deliver a safe festival. We have a lot of planning discussions to look at the crowd dynamics and create the best barrier design.
"We have developed a very particular barrier configuration for the main stage, accounting in particular for the sloping ground stage right, the very wide sight line, along with the need for the incoming productions to get easy access to the front of house. While very good natured, we also considered this is a very boisterous audience who like to get their mosh pits and circles going, all of which led us to a unique lay-out. Our primary front of stage curved barrier has a central thrust back to front of house, and two secondary "arms" that allow the security improved access to the audience. The layout also allows the audience a choice of areas and a safe event without being too restrictive.
"This year we also had to accommodate Aerosmith's 15m thrust coming off the front of the mainstage, which meant looking at the downstage edge curves very carefully to avoid any pinch points, while retaining the original width of the thrust. This is where experience becomes invaluable. The pit for security personnel was also slightly deeper, because of the thrust, but the fact that the festival management had invested in putting down hard standing in front of the stage since the previous years' festival meant our load in and out were much easier, with less ground damage from plant to deal with."
Also joining the Mojo Barriers UK team at Download was Costa Chaparov as crew chief. Jim and Costa have worked together for many years and, with Mojo this summer, they have already managed barrier installations at BBC Radio 1's Big Weekend in Hull and the Old Trafford Manchester One Love memorial concert at very short notice.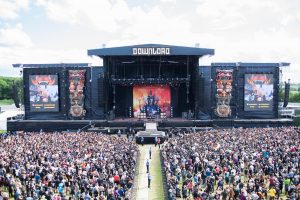 Over 1,200m of aluminium stage barrier was deployed in unique layouts at all five stages and around front of house towers, camera platforms and assisted viewing platforms. Mojo also supplied over 200 meters of Bar barrier to the various bars and concessions around the whole site giving their staff a secure working environment.
Simultaneously on mainland Europe it was the first time Mojo Barriers had supplied 750m of barriers and 400m of plastic bar barriers to the Paris festival. Stanley Jilesen project managed the planning and delivery of six trucks of equipment across five stages with two Mojo supervisors completing installation in just a day and a half, with the assistance of local crew.
Igor Dawidowicz, from Live Nation SAS France comments: "Everything went very well and your team is just great! Honestly, we all feel the difference between your work and other companies."
Stanley will also project manage the 400m of Mojo stage barriers to the new Spanish edition of Download two weeks later.