Mojo Barriers has been contracted to supply 218m of black aluminium touring barrier for AC/DC's 2015/16 World Tour.
AC/DC took to the road in May 2015 with their 'Rock or Bust' tour, spanning Europe before heading on to Australia and North America later in the year. The band's production manager, Opie (Dale Skjerseth) explains why he placed his trust in Mojo:
"Mojo give me confidence to know we can get whatever we need, they always find a solution to any situation that arises. They have the equipment and people to get the job done properly and they care about getting it right. Having used Mojo on many previous tours we all know their system, so our own crew can assemble it without the need for a Mojo supervisor to come on tour.
"AC/DC have sold over 1.7 million tickets in Europe alone, it's all sold out venues and they are lively audiences, so we take our responsibility for their safety, along with that of the bands, crew and equipment very seriously."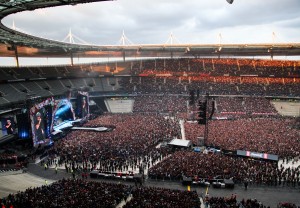 Mojo's project manager Stanley Jilesen consulted with Opie to design the configuration for the front of stage barrier, following the contours of the stage and spanning the width of the stadium pitches. The additional touring barriers surround the two front-of-house mixing positions. At all of the European stadium shows the local promoters have then brought in additional Mojo Barriers for use as secondary barriers, as Mojo Barriers' CEO Cees Muurling explains:
"Most venues in Europe are hiring in additional secondary barrier to allow for effective control of the crowd on the pitch with a secondary line and barriers around pa delay towers. We can support that requirement for stage barriers (including curves and gates), plastic bar barriers and trained supervisors anywhere across the three continents from our local offices or network of distributors. This highlights the value of our global network."