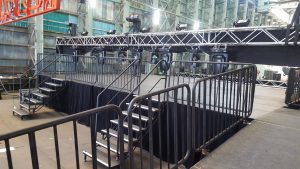 As the exclusive agents in New South Wales for PRO-STAGE, Mojo Barriers Australia supplied staging and risers in addition to stage barriers to Nova's Red Room Presents Lorde on Cockatoo Island, 7th July 2017.
Promoted by popular local radio station, Nova, 1,200 lucky fans were awarded tickets to Lorde's concert which took place at a secret venue; Cockatoo Island's Turbine Hall. The venue originally served as a ship building yard and dates back to the 1850's, and is now a UNESCO World Heritage Site.
This was Mojo's second event as distributors for Pro Stage in New South Wales for this client and at this location, following a Justin Bieber live performance where Mojo supplied media platforms and risers.
For Lorde's performance, Mojo Barriers supplied barrier for front of stage and front of house, along with emergency exit doors. Mojo also supplied a Pro Stage System for main stage at 1.4M in height, with a large access ramp and a tired Front of House Podium.
Being on a small island in the middle of Sydney Harbour gave its own specific challenges as Mojo Barriers Australia's project manager Sheena Edwards explains:
"The only way to reach Cockatoo Island is by catching a ferry across the harbour, which does present challenges when trying to get equipment to the site. All suppliers are ferried over from Sydney, however due to the size of the barge only one truck can fit at a time. Suppliers are ferried one by one and therefore a very tight production schedule had to be maintained to ensure we didn't miss our scheduled time slot and create delays for on-site crew waiting for equipment to arrive.
"Cockatoo Island is a beautiful UNESCO World Heritage Site and as we were working inside a listed building, we were required to be extremely careful when loading and unloading to ensure the building was not damaged by equipment or crew."