Mojo supplied over 1,000m of barriers at both V Festival sites – Hylands Park, Chelmsford, and Weston Park, Staffordshire, 16th to 17th August 2014.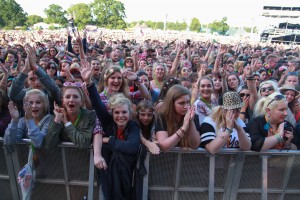 Contracted by Roseclaim Ltd in the North and Maztec Ltd in the South, Mojo Barriers has worked at V Festival over fifteen years, and it's one of Mojo UK's largest annual events during a busy time in their summer calendar.
Mojo provided a wide range of its stock inventory including barriers for stage one and two in the north, and all stages at V South, with security walkways where organisers needed complete confidence in the ability of the barriers to handle the large crowd pressures.
Kevin Thorborn, of Mojo Barriers 
UK, said: "Having the wide variations of barriers allowed 
us to support the organisers on both sites to achieve their site plans with the appropriate equipment for the specific purpose.V-Festivals draw on Mojo's extensive product range, with curves and gates allowing specific barrier configurations. The flexible Mojo bar barrier system was utilised at wristband exchange areas in addition to public concessions including food and drink outlets.
"Logistical operations are always tight at this time of year and the load out poses a particular challenge for us. Weather plays a huge part in the success of this operation as all the kit needs to be separated on site and sent to various locations across the UK and in Europe, ready to be built in time for shows the following weekend."