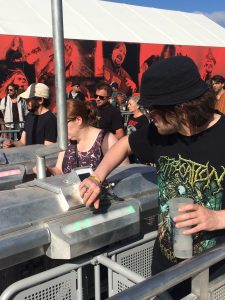 Mojo Barriers introduced its Gatekeeper temporary event turnstile system to Hellfest for the first time, June 2017, along with Mojo aluminium stage barriers keeping crowds safe.
Festival rock fans descended on Clisson, France for Hellfest Summer Open Air, enjoying performances from headliners Linkin' Park, Deep Purple, Aerosmith and many more. 
For its sixth year working with the festival, Mojo supplied over 800 meters of stage barriers, along with 200 meters of bar barriers. For the first time, the company installed 17 Gatekeepers to speed up entry to the festival site. To ensure smooth ingress, Mojo supported Intellitix, who integrated its RFID technology into the Gatekeepers for scanning wristbands at the entrances, enabling the fans to be ushered into the festival site more quickly and efficiently.
The Gatekeeper intelligent portable turnstiles link to a central computer system, which gives accurate capacity data and real time counting. It also incorporates full scanning capabilities and is compatible with any scanning methods.