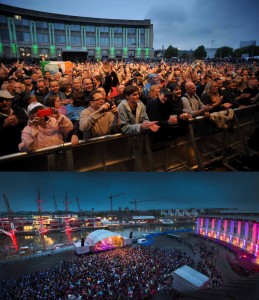 Metropolis Music launched the first major live event to be held in Bristol's harbour side for ten years, delivering an incredible range of artists in a unique setting for the inaugural Bristol Summer Series.
Mojo Barriers ensured crowds were kept safe across two sell out nights of entertainment, installing 36m of its trusted aluminium barriers, configured in front of the main stage and front-of-house.
Flanked by two tall ships with their masts lit for the occasion,  Paolo Nutini played a combination of reworked classics and a selection of tunes from his latest album 'Caustic Love' to a sell out crowd of 5000, before heading to Glastonbury for his set on Friday, where Mojo was once again working across the Somerset site. With Paolo's concert selling out in just three hours, The Pogues were also a huge hit, attracting 3500 people who danced the night away to their Irish punk-folk classics.