Following a surge in music events and tours heading to the region, Mojo Barriers has announced Kuala Lumpur based EHQ Projects as its official Malaysian distributor, April 2014.
Working in partnership with Mojo Barriers' Australian office, full service event supply company EHQ will hold an extensive selection of Mojo's crowd barrier products including aluminium straight sections, vario corners, flexi corners and snake gates.
Craig Edwards, operations and account manager at Mojo Barriers Australia, comments: "After travelling South East Asia for Mojo Barriers on the Metallica Tour and Future Music Show in 2013 – we could see that there was a serious need for a quality barrier product in the region.
"It was on the Metallica show in Kuala Lumpur that we met Jay Neil and Andrew Warren from EHQ Projects, and we knew that if anyone was to represent Mojo in the region it was EHQ. Their professional approach to providing quality sound, light and staging equipment for Metallica was very impressive. They were at all times committed to customer satisfaction."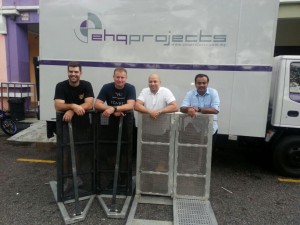 The first show of the Mojo/EHQ partnership was Future Music Festival 2014, where Mojo provided 200m of barrier sections to meet the whole event's requirements. Upcoming shows include Christina Aguilera, SUKMA 2014, MTV World Stage, Arthurs Day 2014 and Rockaway 2014.
Craig continues: "The entertainment and concert industry in Malaysia and South East Asia in general is growing rapidly, and attracting big international acts who demand quality and reliability. By having a trusted distribution partner based in Kuala Lumpur we can give international production managers and local promoters the option of having Mojo Barriers available locally year round, providing security and peace of mind that the barrier is up to task."
Craig, and Nicola Carroll, Mojo's Australian director, have trained EHQ on safe work methods and will be working closely with the team to design bespoke configurations for upcoming events, drawing on Mojo's years of experience in crowd management. 
Pictured L to R: Michael Griffith (Mojo Australia Site Supervisor) Craig Edwards (Mojo Australia's Account Manager) Andrew Warren (Co Owner EHQ Projects) Jay Neil (Co Owner EHQ Projects)