Kylie Minogue is the latest artist to tour across Europe with the benefit of Mojo Barriers' specially-designed touring barrier the G2, as 160m of the system is keeping crowds safe at the singer's 'Kiss Me Once' European dates.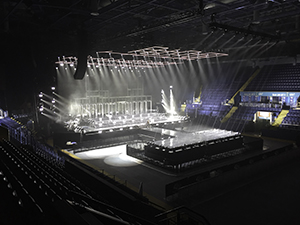 When Kylie kicked off her latest tour in the UK, crowd barrier specialists Mojo Barriers ensured fans with front row views were kept safe, installing 80m for the front of stage at the Liverpool Echo Arena. An additional 80m of stock was then added, bringing the total to 160m, which will be used across the European leg of her tour, culminating on the 17th November at Zurich's Hallenstadion
The barriers, a mixture of straight and specials such as corners and gates, allows the production team – headed up by Kevin Hopgood – to create a configuration that includes golden circle, t-shaped thrust for a catwalk and extended front of house.  As requested by Hopgood, Mojo provided a custom powder coated black system to fit the show's aesthetics.
Having worked with Kevin Hopgood for 10 years Mojo's experience and two way communications ensured the project was delivered without a hitch.
Mojo Barriers' Kevin Thorborn oversaw the project from design stages. He said: "Our G2 barrier system was the ideal system for Kylie's tour, ensuring the same levels of safety are delivered across Europe. The barriers are being transported along with the show's other production elements, negating the need to rent barriers from local suppliers at each venue.
"It was designed specifically for the touring industry, launched just over two years ago for Madonna's MDNA tour. It's proven extremely popular since then due to the benefits it brings production teams – namely the fact that it is lighter, more compact and allows easier and therefore more cost efficient transportation and installation."
Production manager Kevin Hopgood said: "Working closely with Mojo means we can tour a barrier system that is both specific to our technical needs for crowd safety but also is creatively coherent with the overall look of the show. Making the barrier a touring element also has big cost benefits to the tour and promoters alike. This format has developed over a few years & works really well for us all."
The contract follows a busy touring season for Mojo Barriers globally, supplying artists including Katy Perry, Justin Timberlake, Miley Cyrus and Lenny Kravitz.