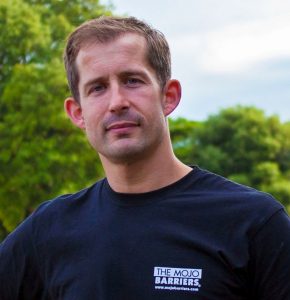 Kevin Thorborn has been promoted to director of Mojo Barriers UK, following his role as UK manager for the past 17 years, 24th April 2017.
Having started at Mojo Barriers in 2000 Kevin has managed the provision of stage and crowd safety barriers to over 1,000 festivals, from their local Medway Castle Concerts to Glastonbury Festival. His diverse experience spans venues from student unions to the O2 Arena, supplying concerts and European tours, which this year have included Bruno Mars, film premieres, award shows such as the Brit Awards, major public and sporting events and he has even supplied police forces in riot situations.
Mojo Barriers CEO Alex Borger states:
"We are delighted at Kevin's progression since joining Mojo, particularly over the past two years when he has delivered consistently impressive results and expanded the UK business. I am sure this promotion to UK director is the beginning of a very exciting future as we look to expand our offering to the UK market with Kevin at the helm.
"Kevin has developed an extensive network of clients and he is clearly delivering the high levels of service we aspire to, as shown by the amount of events contracting Mojo Barriers on a regular basis."
Outside of the companies head office in Netherlands, the UK office sits alongside the USA and Australia offices, with a further 27 distributors providing clients a global network to access Mojo Barriers' trusted range of crowd safety and stage barriers.