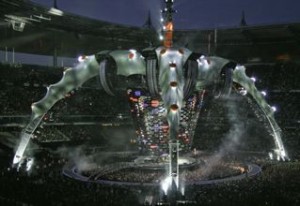 Mojo Barriers have made a very rounded contribution to the 2009 U2 360º tour as the Dutch company underlines its international capabilities by supplying an incredible 700m of curved aluminium barrier system for the World Tour.
Having been contracted to supply the touring crowd barrier system in late 2008, Mojo Barriers' project team was thorough in preparing the largest, most complex touring barrier system the company as ever designed. As the footprint of the gigantic stage spans the width of the stadium pitches, both the central stage and concentric 'B-Stage" are closely surrounded by live audiences. Safety was at the top of all concerned parties' priorities list in designing the barrier configuration, which used all elements of the Mojo Barriers system plus some custom-built elements. The challenge was managed using all Mojo Barriers' experience and flexibility. 
Mojo's managing Director Cees Muurling said:
"This show is pushing production boundaries and we're very proud to be a part of this A-list production team. We have created a barrier system that follows the contours of this incredible stage and set. It has been designed so that the band can get close to the audience; there are a lot of angles and precise set lines to stay close to, making this a very intricate barrier design and installation, featuring well over a 100 special barrier pieces. "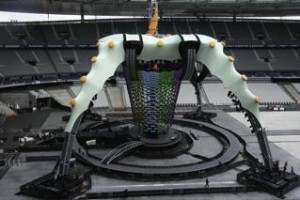 "With the audience effectively held within parts of the stage it was essential that a robust barrier system was produced to ensure everyone's safety. This required a great deal of barrier on the stadium floor and the fabrication of some bespoke pieces, such as the 70 barrier sections with the red upholstered chairs built in to the custom barrier piece sited in the VIP hospitality areas. The four 'claws' of the giant stage are interconnected by rod on the ground, so we manufactured 20 special barrier pieces to traverse these. This project has required a huge amount of effort and expertise from the whole team at Mojo Barriers." 
Mojo Barriers' Appy Thörig is one of the tour's full time carpenter managing the precise installation of this pristine crowd barrier at each stadium.