More often servicing a plethora of global events, Mojo Barriers experienced one of the companies' busiest periods on its own soil, with three consecutive weekends of huge occasions, May 2016.
The first of these significant projects was King's Day: Netherlands national holiday in honour of King Willem-Alexander. King's Day celebrations ran throughout The Netherlands, saw Mojo Barriers keeping the crowds safe at 16 events across the seven cities of Zwolle, Rotterdam, Amsterdam, Eindhoven, Alkmaar, Groningen and Den Bosch. The most popular destination was Amsterdam, where 750,000 visitors joined the 822,000 plus locals for the world's largest street party.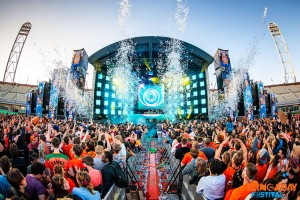 In recent years Amsterdam authorities have introduced several successful measures to stem the flow of visitors as the city was becoming too congested. Effective crowd management plans, coupled with relocating stages and creating ticket only areas to limit capacity have improved crowd safety. In total Mojo Barriers deployed 1,800m barriers, along with 91 Line Up Gates, 780 Bar Barriers and eight Gatekeeper turnstiles.
The following weekend brought Liberation Day, a national day of celebration with a wide variety of entertainment and events taking place to commemorate the liberation of The Netherlands during World War II. Mojo Barriers supplied Liberation Day festivals' with 1,000 barriers, 26 Gatekeepers, 90 Line Up gates across seven cities: Haarlem, Zwolle, Groningen, Wageningen, Rotterdam, Utrecht and Den Haag.
In anticipation of the hotly predicted Championship victory celebrations, Mojo Barriers' team loaded in loaded 900 barriers and specials for the expected Ajax celebrations on the 8th of May. But with final day unexpected twists on the pitch PSV Eindhoven retained the Dutch title, leapfrogging Ajax on a dramatic final day in the Eredivisie. Mojo dispatched a team of 16 people to take out the Ajax barriers and move to the new location. A long day began with a 5am load at two sites. At the railway station 115 units plus 20 Line Up gates were installed, while at Arena Park 785 units including gates, high-fence and 16 mega exit doors were ready by 1pm, for the fans arriving ahead of the 4pm show. Mojo's team began load out at 9.30pm and the sites were clear by 2am, minimising disruption for the city.
Mojo Barriers' director Alex Borger states:
"This was a logistically challenging run of projects. Beginning with King's Day covering multiple urban event sites, we were always working to tight deadline to minimise disruption to normal city life. We have worked with the King's Day organisers for many years, and that experience is valuable for everyone involved. But this year our whole team, led by Erwin Sprengers, Stanley Jilesen, account managers, Rik Beulink and Gijs de Snoo deserve huge credit, as we went straight into the Liberation Day and then onto PSV's football Championship celebrations. All of this coincides with supplying barrier to AC / DC and Bruce Springsteen European tours, leading into an unbelievably busy summer of festivals."
Photo courtesy of Everfest and Iamsterdam.