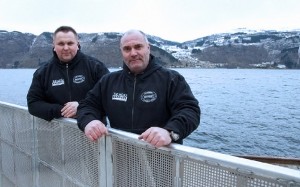 Mojo Barriers has appointed Norwegian security firm Vaktvesenet AS, making them an official distributor of its stage barriers.
The appointment of Vaktvesenet AS as an international partner gives live event and venue clients across Norway access to Mojo's products and expertise, providing a trusted solution for audience safety and crowd dynamics.
Frank Klaveness, operations manager Vaktvesenet said: "The partnership officially began on January 1st this year and was the result of strong demand from the local Norwegian market. We are very pleased to be working with Mojo Barriers, and bringing their products and experience to events in the region. 
"Mojo is already well known in Norway as the leading stage barrier and crowd control company and many acts tour with their own systems, which we will now be able to supplement with additional barriers.
"To enable maximum market reach we have formulated our own partnership with global security firm Securitas (the world's second largest security firm). Securitas' huge infrastructure across Norway gives us the capacity and ability to roll out the Mojo system to the country's most prestigious events and festivals."
The exclusive distributor status means that Norwegian clients now have access to the whole range of Mojo products including Mojo's aluminium stage barriers, gates, exits, corners and bar barriers. Mojo's skilled European team will also be on hand to support and advise on bespoke crowd flow configurations.
Leon van der Velden, international account manager, Mojo Barriers said: "We're looking forward to a long lasting and fruitful partnership with Vaktvesenet helping to keep audiences safe across a huge range of live events in Norway.
"This partnership extends our global distribution network even further and increases our reach into Scandinavia, where we already have established distributors in Denmark and Finland, serving their local market and more effectively supporting touring artists."