Evago Group has become the world's exclusive rental partner for all Terraplas turf protection products since taking over the American rentals branch for Terraplas USA, March 2018.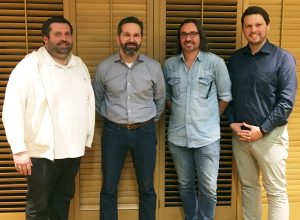 German event supply and industrial services company Evago Group ("Evago") and the Anglo-American Checkers Safety Group, who purchased Terraplas in 2015, have agreed a long-term partnership for Terraplas rentals internationally. Having acquired Mojo Barriers in 2017, Evago then bought the UK Terraplas rental business, and immediately fulfilled demand for the specialist stadium pitch protection for concerts. This new deal will see the Terraplas range be available throughout the Evago Group and Mojo's trusted global network.
With over 27 years of experience in the quality turf protection market, Terraplas has unrivalled experience and leadership in the business of temporary flooring for stadiums and arenas hosting concerts and other non-grass events. The partnership Terraplas USA, part of the Checkers Safety Group, means Evago companies (Mojo Barriers, BÜMO, IEP) have an expanded ground protection rental portfolio of stock exceeding 400,000 m².
With the completion of this transaction Evago sets another milestone in its international growth and diversification strategy, significantly extending its position in the global event flooring market.
Goran Marincic, CEO, Evago AG states:
"Terraplas products are unique in the market and complement our existing product portfolio perfectly. They have become highly trusted to protect valuable stadium turf and sport pitches from heavy vehicles to pedestrians. With this acquisition we significantly strengthen our position in global events, adding significant synergy with our existing brands and companies. Our goal now is to very quickly increase the rental stock of pitch protection with additional new material in order to be able to respond immediately to customer requirements."
Robert Else, Chairman of Terraplas comments:
"In our partnership with the EVAGO Group, we are pleased to further consolidate and expand the market leadership of the Terraplas brand worldwide."