Building on its relationship with BoomTown Fair, Mojo Barriers supplied 600m of kit to this year's event, 11-14 Aug 2016.
Hampshire's Matterley Estate once again played host to the fully immersive BoomTown Fair, which this year welcomed an increased capacity of 60,000 music lovers and saw the addition of over 80 street venues. Mojo Barriers expanded on its inaugural year supplying BoomTown Fair, by supplying 600m of kit, which was installed across the entire festival site. Mojo's barriers were installed at all festival stages, including The Lion's Den, The Jolly Dodger and Sector 6, a new district introduced to the 2016 event.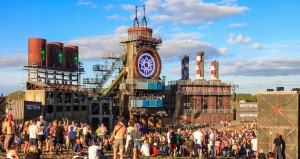 Founded in 2009, BoomTown Fair is an expansive metropolis, split into nine different districts, each of which has a different theme. As well as its impressive main stages, BoomTown Fair is famed for its bespoke entertainment and its creatively themed venues, which this year witnessed performances from Madness, Damian 'Jr Gong' Marley and Fat Freddy's Drop.
Kevin Thorborn, Mojo Barriers' UK manager commented: "The individual and quirky nature of BoomTown makes it such a special event and it's great to see organisers pushing boundaries when it comes to creativity and imagination. BoomTown Fair is famed for its impressive stages and immersive set design and this year saw the introduction of the new district, Sector 6. This wasn't an area we had supplied before, so it was a case of visiting the site, checking the ground and the contours and designing a barrier layout which offered maximum crowd safety.
"As well as supplying new areas, we also installed our barriers at BoomTown's infamous stages, including The Town Centre and The Lion's Den stage, which is situated within a natural bowl, meaning we had to design an effective layout which matched the contour of the land. It's great to be involved with such a progressive event, which keeps growing year on year, and we look forward to expanding our work with BoomTown Fair in the future."