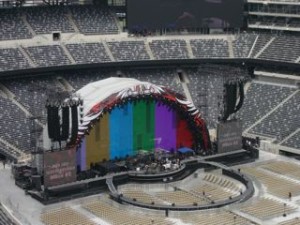 Mojo Barriers US office created a curved aluminium barrier system, for the three week Canadian leg of the Bon Jovi Circle Tour. The system compromised of 130 m of Mojo Barrier, complete with custom built emergency gates for the inner circular pit. 
Bon Jovi's Circle Tour started on the 9th July in the bands home town New Jersey with a 68,000 strong audience and continued with 10 sold out shows, including a headline act at the first ever Hallabalou Festival on the 23rd July where Mojo Barriers also provided the crowd control barricade. 
Mojo Barriers' JB Dolphin and Matthew Tamulis liaised with Bon Jovi's head of security Knute Brye and tour production manager Jesse Sandler to ensure the installation of the barriers met the needs of the record crowds. Matthew Tamulis was on site in New Jersey to give expert advice to tour production on successfully managing the installation of the curved barrier system. 
Matthew Tamulis, Mojo Barrier's project manager explains, 
"Safety is always a high concern and therefore we needed to create a robust and secure barrier and emergency gate system. The Mojo Barrier system also need to fit in with the specific circular designs for the stage. 
"We created an unusual layout for the tour as the barricades were arranged in a curved semi-circle around the ring platform extending from Bon Jovi's stage, allowing the crowd to form a circle around the ring. 
"For this system to be successful in accommodating the crowd pressure and to ensure everyone's safety, we used different pieces to create a convex curve around the circular stage. Throughout this tour there was a VIP section in an inner circle pit for which we custom built four emergency gates to ensure a fast exit out of the circle if needed."