Mojo Barriers has expanded its international capabilities with the announcement of its new Indonesian distribution partner, following an increase in music events and tours heading to the region, May 2016.
Working in partnership with Mojo Barriers' Australian office, Emil Mahyudin, owner of Indonesian event company Nada Promotama, has become Mojo Barriers' representative in Indonesia and has kicked things off with 348m of G2 Silver Mojo Barrier, and an extensive selection of Mojo's specials, including 23 Vario Corners, 21 Flexi Corners and 4 Cable Gates. Within the first year, this equipment will be used on over 30 local and international festivals and shows throughout Indonesia.
Emil has been running large scale events for all types of bands and DJ's across Indonesia since 2009 and has a strong position in the market as a leader in his field. He now has a large scale team that manage up to 120 events and shows annually.
Craig Edwards, general manager of Mojo Barriers Australia comments: "After making an entry into Malaysia and Singapore and setting up distributors in these regions – we started getting enquiries coming from Indonesia for the need for quality barriers. I travelled in and out of Jakarta for a series of meetings over two years without being satisfied this would be a market for Mojo Barriers, until I received an email from Emil Mahyudin enquiring about representing us and building a future for Mojo in Indonesia.
"I have just spent two weeks In Indonesia helping set up Mojo here with Emil and training his staff in safe working methods on and off site, stepping in where I thought was necessary until I was completely happy with their work. Emil understands the very high level of safety and workmanship we have within the Mojo family and it has been clear to me that we have made the right choice in choosing him to represent us here in Indonesia."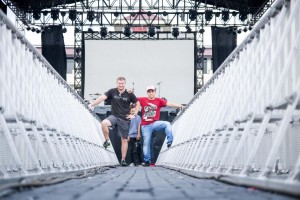 The first show in this new partnership was Australian indie rock band, Tame Impala, who played in Jakarta on the 29th April. 250m of Mojo Barrier was used, with a thrust configuration that ran from the front of stage, extending around the front of house. This was the perfect opportunity for the Mojo team to train Emil's supervisors in safe working methods and to show them the quickest and safest way of installing the barrier.
Craig Edwards continues: "We see this relationship as being a long fruitful one in Indonesia, and it adds another country within South East Asia that we can now provide international production managers and local promoters the option of having Mojo Barriers on hand all year round."
Emil Mahyudin, owner of Nada Promotama comments: "I wanted to raise standards in crowd safety and security at events within Indonesia, and ensure that every event I put on is as safe as it can be. Mojo Barriers is known for being the best at what they do and with their equipment and expertise we are now able to offer improved crowd safety within the region.
"I got in touch with Craig and flew to Europe to meet with him and the Mojo team from Head Office while he was there working on some large scale festivals, seeing how they operate within and around Mojo HQ, as well as meeting the group directors to ensure I really understood the business. We're thrilled to be working with Mojo Barriers to bring their barrier into the Indonesian region and roll out the Mojo system to the country's most prestigious events and festivals."