Building on its 15 year relationship with Roskilde Festival, Mojo Barriers has secured a further three year contract to ensure artist and audience safety throughout the eight day event.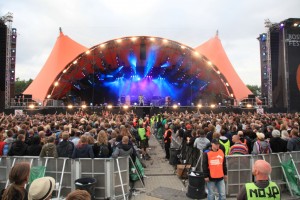 Roskilde Festival is one of Europe's most established large festivals, taking place in Denmark from 25th June- 2nd July 2016, with Mojo Barriers once again supplying its unique barrier configuration. This unique pen system splits the front of stage area into four pens, which are emptied between the bands, allowing organisers to control the number of people in the front of stage areas and divides the audience to prevent large crowd surges.
As well as the barriers, Mojo Barriers will also supply its proprietary Line Up Gates to enable Roskilde to operate its unique entry system, allowing organisers to control the flow rate into all the pens and give the security staff an effective monitoring system.
Mojo Barriers' Alex Borger comments: "There is a great health and safety culture at Roskilde and we've worked closely with organisers to develop a barrier configuration which provides optimum safety to festival goers. This three year contact is testament to Roskilde's commitment to crowd management and we're looking forward to expanding on our long-term relationship with this brilliant event."
Roskilde Festival will see 175 acts perform over eight stages, including New Order, Mac Demarco, Sleaford Mods and Foals.