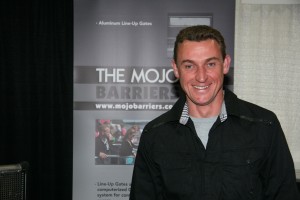 Crowd safety experts Mojo Barriers is celebrating 25 years in industry, helping to raise standards in health and safety at live events across the world.
Established in 1988 as an offshoot of Netherlands-based promoters Mojo Concerts, Mojo Barriers was the first company to launch a specially-designed stage barricade system. The term ' Mojo Barriers' has since become synonymous with crowd safety barriers, much like 'Hoover' has for 'vacuum' or 'Coke' has for 'cola'.
As MD from 1988 to 2009, the fondly-remembered Patrick Jordan steered the company and developed the products and excellent relationships with the music production industry. Current managing director Cees Muurling explains: "Twenty five years ago Mojo Concerts realised the need to make events safer and developed the first ever stage barrier.
"Initially developed for the company's own use we were soon getting requests from some of the world's leading acts including Prince, U2, Rolling Stones and Metallica whose production teams were also starting to pay more attention to health and safety standards."
Since then Mojo Barriers has gone on to supply countless events. Product development has also been key to growth, with the introduction of the lighter aluminium barrier, line up gates and most recently the intelligent turnstile system Gatekeeper 2.0, which incorporates ticket scanning capabilities.
"But there is more to it than the products," continues Cees. "A stage barrier on its own isn't enough, although it is a huge step forward from where the industry was 25 years ago. The industry has moved on a lot; production teams and event organisers realise the importance that stage barrier layout has on the inherent safety of audiences and performers at their events, and now engage us from the early planning stages.
"We've moved on from being a commodity and are now a service provider, analysing site layout, audience demographic and event genre to predict crowd flow and ensure the safest possible configuration."
Mojo has expanded considerably in the last 25 years, opening its UK (London) office in 1998, USA (Colorado Springs) in 2003 and Australia (Sydney) in 2012. It also has a network of international distributors in countries including New Zealand, Finland, Norway, Denmark, France, Spain and Japan.
The team is a familiar sight on some of the world's best known festivals, events and tours including TomorrowWorld, Creamfields, Lollapalooza, Big Day Out, Metallica, Beyonce and Taylor Swift to name just a few, as well as working with councils, sports and corporate clients.
Cees concludes: "Mojo Barriers has remained at the forefront of the sector, despite the marketplace becoming increasingly crowded. I believe the reason for this is simple – it's our close relationship with the industry meaning we're tuned to their requirements, our consistently evolving product portfolio and our experienced, professional project managers and crew."