Jan 2011 Mojo Barriers Secure the Best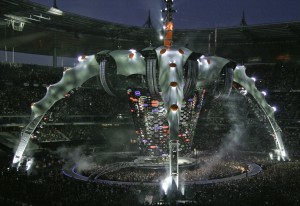 Mojo Barriers ensured the safety of millions of fans and famous acts from 6 out of 10 of the top grossing worldwide tours during 2010*. 
As Mojo Barrier's US office wrapped up 2010, the barrier specialists, led by J.B. Dolphin US Manager, were delighted to learn the company had provided barriers and expert crowd safety services at over half of the top ten tours during the year.* 
J.B. explains further; 
"We pride ourselves on being industry leaders; during 2010 Mojo Barriers, as a company, provided product and services over 750 touring shows. Six of these made the top ten list for highest grossing world tours and the fact they trusted us with the safety of their audiences and acts reflects our investment and ongoing efforts to improve concert safety." 
The barrier company created bespoke parts for both the top grossing act Bon Jovi and third on the list, U2's tours. The emergency gates created a swifter egress and ingress with clever engineering that allowed them to swing both ways. This also helped fans to easily move between inner and outer pits. 
Mojo's trusted high quality barrier is designed and fitted in a way that widens the enclosure range for audiences at most concerts. In Bon Jovi's case the 35 meters of barrier fitted into the specially designed VIP circular area extended from the main stage, creating a safe environment for the guests and VIP fans during the 33 shows. 
Metallica entrusted their safety to the barrier specialists who provided 110 meters of high quality moveable barricade chutes for all 21 of their world tour dates. These chutes connected to the entire stage enclosure, allowing the band to enter and exit the stage via the vomitorium safely. 
McCartney was another of the top grossing artists to enjoy the benefits of Mojo Barriers' international network of expertise and combined resources, allowing the company to deliver great value for money for tour organisers. During his 44 worldwide shows Roger Waters never compromised on quality, with safety as a key priority for all involved. AC/DC also benefited from Mojo's international offices, requiring 200m of barrier for the Australian leg of their tour and 300m during the European leg.        
The US office, as well as the European offices, is busy planning another progressive year, with product launches in the pipe line and the crew look forward to securing crowds safely during the next biggest selling shows of 2011.