Mojo Barriers' Touring Treble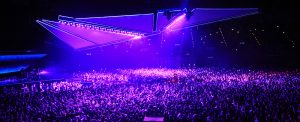 Mojo Barriers UK office has continued its winter touring season with a busy start to the year supplying its specially designed touring barrier to three major tours, January 2017.
Avenged Sevenfold kicked off their European arena tour on January 10th at Glasgow's SSE Hydro. Collaborating with the team behind Cirque du Soleil, the band took their stage production to the next level with projection mapping, giant inflatables and impressive visuals. Mojo Barriers supplied almost 100m of equipment for the UK and European tour dates, with a barrier configuration that contoured the additional thrust and B stage.
Mojo Barriers is also supplying an arena sized stage barrier system to all the UK and European tour dates of Kings of Leon's 'Walls' tour, starting on the 15th February at the Laxness Arena in Cologne. Mojo is also supplying the European and US legs of The Weeknd's Starboy: Legend of the Fall Tour which will begin on the 17th February at Stockholm's Ericsson Globe. With an impressive catwalk stage, Mojo is installing a number of supplementary products including diamond plates, vario corners and flex corners, to ensure the barrier configuration matches the contours of the stage.
Kevin Thorborn, Mojo Barriers' UK manager commented: "The touring market has always been an important one for us at Mojo Barriers, both internationally and in the UK, and we've witnessed major growth in this area over the last few years. As tours push the boundaries when it comes to stage shows and production we've seen an increased demand for our specifically designed touring barrier, which offers a more tour-friendly product whilst maintaining the highest levels of structural integrity and safety."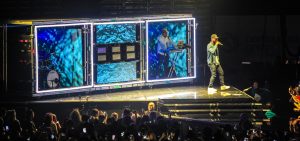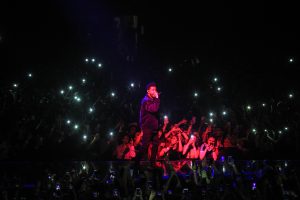 Mojo Barriers Supply Muse World Tour
Muse is the latest band to benefit from Mojo Barriers' specially-designed touring barrier as 160m of the system keeps crowds safe throughout 'The Drones World Tour'.
Mojo Barriers was contracted to ensure audience and artist safety at all the US and European dates of Muse's nine month tour. Mojo supplied 160m of barrier, ADA and heavy duty cable ramps along with custom designed Double Flex Corners to allow the Muse production team to pass cabling under the barriers safely.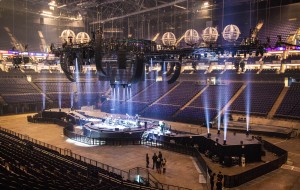 Mojo's JB Dolphin and John Wagoner oversaw all 27 Mexican and North American dates, whilst Stanley Jilesen oversaw the 50 shows in Europe. Muse played in the round, with a circular stage in the middle with two catwalks at either end. To compliment the unique stage layout, Mojo's Vario Corners were widely used to work with the contours of the stage. The tour has been celebrated for its use of the latest drone technology by Motion Business, who worked with the production team to fly giant drones above the audience throughout the show.
Mojo US' John Wagoner comments: "The Drones World Tour has been groundbreaking with the bands use of technology and we're proud to have been involved with such a spectacular production. During rehearsals the production team had some last minute changes that augmented the barrier layout, however we were able to deploy the crucial parts to accommodate these changes and ensure the tour didn't miss a beat."
Mojo's Stanley Jilesen comments: "Muse's stage design allows the band to offer greater intimacy and get as close as possible to their fans. We were able to accommodate this layout using specialist equipment from our stock list,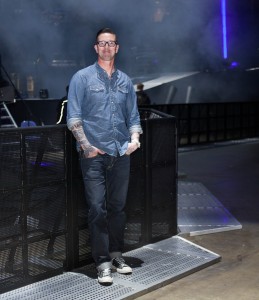 as well as custom designed barrier pieces, which enabled us to install the desired barrier configuration. Muse's use of technology within their stage show has enabled them to produce a truly brilliant spectacle and we're proud to play a part in this." 
Chris Kansy, production manager commented: "Muse's Drones World Tour isn't a straightforward one-size fits all show. The tour is sculpted around a bespoke stage layout with multiple entrances and multiple cable routing in and out. The set up depends on a number of factors including the venue, where the band enters and how we need to feed equipment in and out of it. We rely on carrying a range of spare equipment Mojo Barriers has supplied us to enable us to adopt the configuration that we need for the show, and having the right parts to do this is important.
"My relationship with Mojo Barriers has been a long one and I have huge trust in the team and their kit. Mojo understand our requirements and have gone out of their way to ensure we have all the special corners and gates needed to stage this impressive show."
The Drones World Tour officially begun on the 17 November 2015 in Mexico's Palacio de Los Deportes and will end at Hungary's Sziget Festival on the 10 August 2016.
Rebel Heart Tour with Madonna
Mojo Barriers supplied a variety of barrier products for the front of stage and front of house production areas, for the European leg and two Asian tour dates of Madonna's Rebel Heart World Tour. 
Rebel Heart Tour is the tenth worldwide tour from Madonna and supports the release of her 13th studio album of the same name. The tour kicked off on the 9th September in Montreal, Canada and ran for six months, visiting 22 countries worldwide.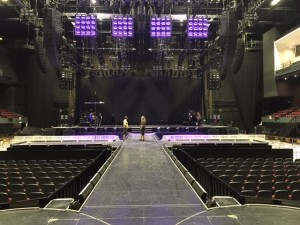 Mojo Barriers was contracted to ensure audience and artist safety for all of Madonna's 25 European tour dates, as well as at her shows in Taipei and Macau, which both took place in February 2016. The European leg of Madonna's tour began with the Lanxess Arena in Cologne of the 4th November 2015 and visited 12 European countries.
Mojo Barriers supplied almost 200 pieces of kit, including vario corner sections, snake gates and flex corner sections for the front of stage and front of house production areas. Mojo's wide range of special curves and corners in black aluminium made it an ideal choice, allowing the barrier configuration to match the complex stage design of a cross and heart shaped B stage. All the barriers were supplied in black aluminium, in line with Madonna's wish for the barriers to be unobtrusive. 
Madonna is famed for her inventive stage shows and this tour was no different. Madonna's large elevated stage was complete with an extending catwalk with a circular stage half way down and heart-shaped stage at the end. Although not a challenging layout, this install did create some challenges as Stanley Jilesen, Mojo Barriers' project manager comments:
"Madonna is one of the world's biggest artists, with state of the art production, so it was an honour to be entrusted with both audience and artist safety during her European tour dates. Although this wasn't a challenging install, the shape of the stage did make this slightly more complex as Madonna wanted the barriers very close to her stage to increase intimacy and enable closer contact with her audience. The shape of the stage meant it was slightly more difficult to get these barriers as close as was requested, so we utilised specialist stock, including our corner sections, to ensure we got the shape spot on."
"The American tour shows were seated, which meant there was not a lot of barrier pressure during the show. Here in Europe, the standing shows meant the barriers needed to be able to withstand this increased crowd pressure. We worked closely with the PM, Jason Danter, to design a barrier layout that suited the show and enabled Madonna to be as close as possible to her audience."
August 2012 Mojo launches new touring barriers with Madonna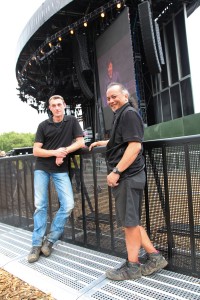 Mojo Barriers launched its new touring barrier system on the European leg of Madonna's MDNA tour, offering promoters a more tour-friendly product whilst maintaining the highest levels of structural integrity and safety.
The newly designed barrier is slightly lighter than Mojo's standard aluminium barrier system, which has become the much-copied global industry standard since its launch in 1998 when Mojo Barriers turned from steel to aluminium.
By using bespoke cast parts and extrusions in manufacturing Mojo has been able to integrate specific design changes to give a friendlier feel in handling the product and an increased number of units fitting in a standard dolly. The latter has enabled a saving of 20 percent on truckspace and storage.
Available in aluminium and powder-coated black the system has undergone extensive testing to ensure it meets and exceeds all expected tolerance and pressure levels. Mojo has initially ordered 1,500m of the new system, including corners, gates and other specials.
Cees Muurling, Mojo Barrier's managing director, explains: "A large part of our business is touring with major global artists and working with them to find ways to make their tours more efficient, safe and cost effective. We invest heavily in research and development and are constantly finding ways to improve our products and services and pass these benefits onto our clients. As more productions enter territories with poor – or worse – no barriers, carrying a touring barrier is more essential to consistently fulfil healthy and safety regulations.
"The new barrier has been in development for the last 18 months, undergoing meticulous testing both externally, and at our headquarters in Holland, to ensure that it can handle the same pressure levels as our previous product. This new system has huge economical benefits and the interest and feedback we have had already is incredibly promising. Madonna's MDNA tour was the first to take it on the road and we are already in talks with other major artists."
The MDNA tour has seen Mojo, led onsite by Ap Thörig, tour across 33 European dates with the barrier making its debut at the show in Istanbul on June 7th and ending in Stade Charles Ehrmann in Nice, France on 21st August. Other locations included London's Hyde Park where Madonna performed outside to over 80,000 fans.