Jan 2007 Mojo Barriers hits the ground running in new US office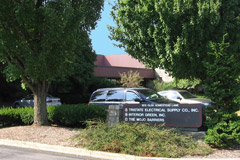 Mojo Barriers has moved its US operation to Lancaster, Pennsylvania, bringing the world-renowned barrier business to the heart of the US's live event production community. The new base, which was relocated from Las Vegas in the later half of last year, is now in close reach of four major centres of population: New York, Baltimore, Philadelphia and Washington DC – none more than a 3 hour drive away. 
"We've moved from Sin City to the Amish Country," laughs James 'JB' Dolphin, US Operations Manager for Mojo Barriers. "Although we're in farmland we're very close to other important production companies including Clair Brothers and Tait Towers, both located just miles away in Lititz. It feels like we're in the rock n roll capital of the USA!"
The move has allowed Mojo to improve its service to existing clients, like Live Nation of New York and Baltimore, as well as supply a larger number of new clients such as festivals and clubs.
"Production managers are delighted at the move," JB says. "They can send their trucks on a single journey to Eastern PA to pick up Stage Sets, PA equipment, and now Mojo Barriers too." 
The new office strengthens Mojo's international network, improving the company's access to established clients and new markets. As part of the move, the company has been able to expand its storage service, where sets, stages and other events production hardware can be accommodated, including becoming Cyberhoists US storage and distribution facility.