Home Treble for Mojo Barriers
More often servicing a plethora of global events, Mojo Barriers experienced one of the companies' busiest periods on its own soil, with three consecutive weekends of huge occasions, May 2016.
The first of these significant projects was King's Day: Netherlands national holiday in honour of King Willem-Alexander. King's Day celebrations ran throughout The Netherlands, saw Mojo Barriers keeping the crowds safe at 16 events across the seven cities of Zwolle, Rotterdam, Amsterdam, Eindhoven, Alkmaar, Groningen and Den Bosch. The most popular destination was Amsterdam, where 750,000 visitors joined the 822,000 plus locals for the world's largest street party.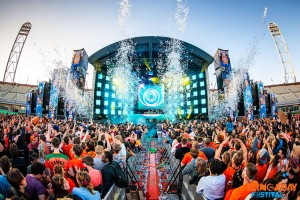 In recent years Amsterdam authorities have introduced several successful measures to stem the flow of visitors as the city was becoming too congested. Effective crowd management plans, coupled with relocating stages and creating ticket only areas to limit capacity have improved crowd safety. In total Mojo Barriers deployed 1,800m barriers, along with 91 Line Up Gates, 780 Bar Barriers and eight Gatekeeper turnstiles.
The following weekend brought Liberation Day, a national day of celebration with a wide variety of entertainment and events taking place to commemorate the liberation of The Netherlands during World War II. Mojo Barriers supplied Liberation Day festivals' with 1,000 barriers, 26 Gatekeepers, 90 Line Up gates across seven cities: Haarlem, Zwolle, Groningen, Wageningen, Rotterdam, Utrecht and Den Haag.
In anticipation of the hotly predicted Championship victory celebrations, Mojo Barriers' team loaded in loaded 900 barriers and specials for the expected Ajax celebrations on the 8th of May. But with final day unexpected twists on the pitch PSV Eindhoven retained the Dutch title, leapfrogging Ajax on a dramatic final day in the Eredivisie. Mojo dispatched a team of 16 people to take out the Ajax barriers and move to the new location. A long day began with a 5am load at two sites. At the railway station 115 units plus 20 Line Up gates were installed, while at Arena Park 785 units including gates, high-fence and 16 mega exit doors were ready by 1pm, for the fans arriving ahead of the 4pm show. Mojo's team began load out at 9.30pm and the sites were clear by 2am, minimising disruption for the city.
Mojo Barriers' director Alex Borger states:
"This was a logistically challenging run of projects. Beginning with King's Day covering multiple urban event sites, we were always working to tight deadline to minimise disruption to normal city life. We have worked with the King's Day organisers for many years, and that experience is valuable for everyone involved. But this year our whole team, led by Erwin Sprengers, Stanley Jilesen, account managers, Rik Beulink and Gijs de Snoo deserve huge credit, as we went straight into the Liberation Day and then onto PSV's football Championship celebrations. All of this coincides with supplying barrier to AC / DC and Bruce Springsteen European tours, leading into an unbelievably busy summer of festivals."
Photo courtesy of Everfest and Iamsterdam.
Mojo chosen for Macklemore & Ryan Lewis
Mojo Barriers supplied 75m of barrier and 20 Vario Corners to the UK and European tour dates of Macklemore & Ryan Lewis' latest tour, April 2016.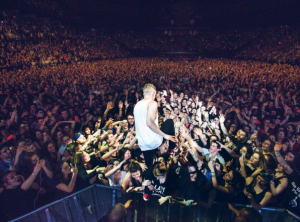 Following the release of their album 'This Unruly Mess I've Made', Macklemore & Ryan Lewis embarked on their first tour in two years. The impressive production saw the creation of a bespoke stage design which facilitated their energetic performances and enabled them to get as close as possible to their fans.
Due to the complex shape of the stage 75m of barrier and 20 Mojo Vario Corners were required to give flexibility when it came to matching its shape and contours, whilst ensuring the upmost safety at the UK and European dates.
Mojo Barriers UK manager Kevin Thorborn commented: "This is the first time we have worked with Macklemore and production manager Chris Fussell, and they are extremely knowledgeable of our products. We dry hired our barriers, meaning we didn't need to supply any crew with the tour; however we were on hand throughout to answer any questions that arose. The effort that went into the production was huge and this really shines through, it's been a really great tour."
Photo credit: Zoe Rain
Keeping Crowds Safe at Snowbombing
Mojo Barriers supplied stage barrier and bar barrier to Snowbombing, Austria, 4-9th April 2016.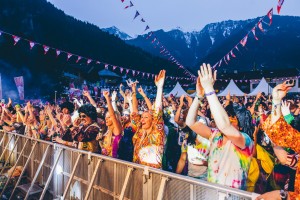 Snowbombing takes place in the Austrian town of Mayrhofen and welcomes over 6,000 music and snow sport fans to the busy working town. The UK office of Mojo Barriers supplied 70m of stage barrier and 25m of bar barrier across this unique festival site. With a mixture of temporary and existing venues, Mojo Barriers' stage barrier was the ideal product for this event, which required the barriers to be quickly moved and reconfigured for the different events taking place each day.
Mojo's bar barrier enabled the event organisers to quickly set up temporary bars on site during The Street Party and Forest Party, which were installed and taken down while the festival was taking place.
Kevin Thorborn, Mojo Barriers UK manager comments: "We've been working with Snowbombing since 2012 and we were thrilled to be back on the slopes supplying our barriers to ensure artist and audience safety throughout this event. The Snowbombing site is challenging and with so many different events and venues taking place it's vital for organisers to have a barrier system that can be easily installed and reconfigured, and our Mojo Barriers allows exactly this."
Ryan Esson, production manager commented: "We used Mojo for all of our barrier requirements on site, including Street Party, Forest Party, Racket Club and temporary bars throughout the site. Kevin has always looked after any barrier requirements that I have had and he's an excellent client manager, he always delivers on the jobs I book him on. The kit is well kept, clean and is always installed and managed by excellent crew. I thoroughly enjoy working with them."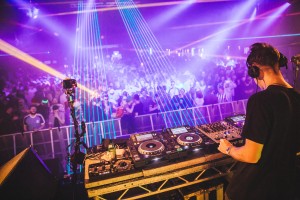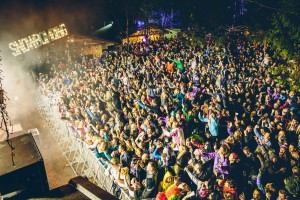 Photo credits: Jenna Foxton/ Fanatic, Danny North and Andrew Whitton/ Fanatic. 
Mojo Barriers designs new high fence product for the G20 summit
A brand new reinforced barrier system was designed by Mojo Barriers to help keep politicians, dignitaries and heads of state including Barack Obama and David Cameron safe during the G20 Leaders' Summit in Brisbane, Australia from 15-16 November 2014.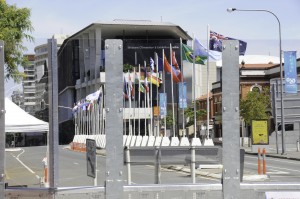 With over 4,000 delegates and 3,000 media descending on Brisbane to discuss a wide range of global economic issues, the system was required to create restricted zones across the city and form protective walls around the event's venues, including the Brisbane Convention and Exhibition Centre.
Coates Hire contracted Mojo Barriers to supply and install a unique barrier solution as specified by police and government officials. The resulting product, High Fence, consists of 1m wide and 2.4m high sections of reinforced aluminium barrier – the standard crowd control equipment from Mojo's product range – with a see-through Polycarbonate upper, which is a durable and high impact resistance material, easily withstanding destructive attacks.
Over 2,000m of the product was installed across the city by the company's Australian team. Doors and gates were also manufactured which integrated into the barrier line, to ensure fire safety and access and egress regulations could be met.
Cees Muurling, managing director at Mojo Barriers, explains: "The brief was to create a product to act as a deterrent and keep the public out of restricted areas. High Fence is quick and simple to install, exceptionally strong and durable and the clear upper section gives security personnel uninterrupted views of the surrounding areas. Its unique aspect is that it is not weighted or pinned to the ground, therefore is completely self supporting, and can withstand significant crowd pressure and deliberate attempts to breach the barrier line.
 "It underwent extreme testing against pressure and targeted attacks. It was proven to be extremely strong and is the ideal solution for events and occasions where crowd and building segregation is an integral part of the security process."
The installation for the G20 was one of the toughest on Mojo's records, with limited overnight shifts to install all barriers and transparent panels, snaking in a complex grid across the city.
Craig Edwards, Mojo Barriers' Australian operations and account manager, explains: "The tough timeframe and sheer scale of the operation meant it was the most complex and challenging project the Australian Mojo office has faced to date. We assembled a skilled team of nine local and international supervisors, managed over fifty truck movements and directed a crew of over one-hundred hands. Coordinating simultaneous legs of the installation required accurate planning."
Over 2,500m of the product is now available to the international event, security and police industries. Cees Muurling expresses the importance the product will play in opening up a new market sector for the company, which was established 25 years ago and is a global leader in the supply of state of the art crowd control solutions to festivals, tours, concerts and live events.
He says: "Post event, we will have 2,500 metres of High Fence available across all of Mojo Barriers' offices; UK, Europe, Australia and the USA. It's ideal for the police, security and protection industries as well as future political, government and cultural events. We've already had interest from parties across these sectors."
High Fence is aesthetically attractive compared to the usual perimeter fencing used at major events and this was essential considering the media and broadcast attention garnered by the Summit.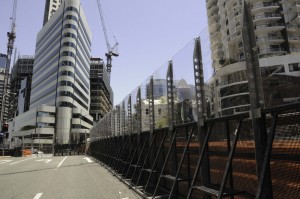 MOJO BARRIERS KEEPS THE CROWDS SAFE AT FIRST EVER ON BLACKHEATH FESTIVAL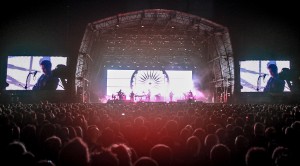 Mojo Barriers was chosen as the official barrier supplier for the inaugural and much-anticipated  On Blackheath festival, ensuring the safety of 25,000 people as they headed to south east London for one of the last festivals of the summer, 12-14 September 2014.
The festival pulled in big names both on and off stage with Harvey Goldsmith managing the launch and Massive Attack, Frank Turner and Grace Jones performing in headline spots.
 On Blackheath celebrated much more than just the music though, with a large farmers market, food stages and live demonstrations from culinary royalty including Gizzi Erkstine and Adam Simmonds.
Mojo Barriers was contracted by the festival to supply 180m of its trusted aluminium barriers, configured cross the main stage and front-of-house, plus the second and third stages. An extensive stock of kwo online slots new zealand its bar barriers were also in use across the site, providing vendors with a portable, durable and easy-to-clean serving solution.  
Kevin Thorborn, Mojo Barriers UK, comments: "On Blackheath was a huge hit and is a great addition to the UK festival calendar. It marked the end of a busy and successful summer for the Mojo Barriers' UK team and we're looking forward to working with the team again in the future." 
MOJO BARRIERS STARS IN GLASGOW 2014 CLOSING CEREMONY
From Kylie to Lulu, the Glasgow 2014 Commonwealth Games Closing Ceremony celebrated with a star-studded line up of entertainment. But the stars didn't just shine on stage, with Mojo Barriers providing a bespoke star-shaped barrier configuration to keep the crowds and performers safe, 3rd August 2014.
Mojo Barriers was contracted by Jack Morton, the agency entrusted by the Glasgow 2014 Organising Committee to design and deliver the entire show. Taking place at Hampden Park the ceremony embraced a 'festival' theme, and opened with a spectacular fireworks display before some of the world's greatest performers took to the stage, alongside local community acts and special guests.
The entire show was set upon a main stage connected by a 25m catwalk to a b-stage. The design replicated a giant shooting star. Over 249m of Mojo's silver aluminium barriers were used to encircle the entire stage – including the five-point star –separate it from the audience and provide ample room for security personnel to move around.
Another important consideration was the various film crews which were broadcasting the event live across the globe to an audience of over 7.7m. They needed clear and spacious access to the required camera angles and the barrier equipment needed to be of the highest quality and aesthetic to appear in broadcasted footage.
Jack Morton and its carefully-selected suppliers had only 18 hours to transform Hampden Park ahead of the closing ceremony, as just hours before it was home to Glasgow 2014's track and field events.
Mojo Barriers' Kevin Thorborn comments: "This was an intricate configuration and a true showcase of the flexibility of the Mojo Barrier system. This complexity simply wouldn't be possible with straight sections only so we deployed a large amount of our 'specials' such as vario and flex corners.
"A GPS system to log the precise location of each barrier, meaning we could load in quickly and efficiently. This was vital given the fast turnaround required. Jack Morton and Glasgow 2014 put on an amazing show, and we were very proud to be a part of it."
View a photo of the layout on the BBC.
MOJO BARRIERS TO STAR ON THE DISCOVERY CHANNEL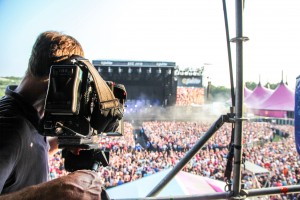 Mojo Barriers has recently returned from The Netherland's oldest festival, Pinkpop, where the stage barrier specialist completed the last segment of filming for the Discovery Channel's 'How do they do it?'
Hosting the programme's production company, WAG TV, Mojo Barriers has been busy helping to film the documentary which will air in winter 2014. It will explain how Mojo Barriers' patented stage barrier system is made, and the important role it plays at some of the world's largest and most well known events.
Jasper Caldenhoven Mojo Barriers' project manager has been managing the process and ensuring that the film crew gets everything they need. He said: "Before joining Mojo Barriers four years ago I worked in film location, so it's been great to be able to put these skills to good use.
"The documentary follows every step of Mojo Barriers' procedures including the manufacturing process, which saw us filming at four different factories. We then filmed the rigorous testing systems back at our warehouse, the logistical and planning processes and finally, how we use the barriers out on site.
"Pinkpop was the perfect festival for this, with over 1,100m of barrier across the site and 485m on the main stage alone, carefully designed and configured for optimum audience, crew and artist safety."
'How do they do it?' is one of the Discovery Channel's flagship programmes and is aired in over 220 countries worldwide. To find out more about the series visit http://www.sciencechannel.com/tv-shows/how-do-they-do-it and keep checking the Mojo Barriers website here to find out when the film will be aired.
25 years of safety with mojo barriers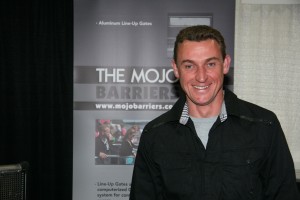 Crowd safety experts Mojo Barriers is celebrating 25 years in industry, helping to raise standards in health and safety at live events across the world.
Established in 1988 as an offshoot of Netherlands-based promoters Mojo Concerts, Mojo Barriers was the first company to launch a specially-designed stage barricade system. The term ' Mojo Barriers' has since become synonymous with crowd safety barriers, much like 'Hoover' has for 'vacuum' or 'Coke' has for 'cola'.
As MD from 1988 to 2009, the fondly-remembered Patrick Jordan steered the company and developed the products and excellent relationships with the music production industry. Current managing director Cees Muurling explains: "Twenty five years ago Mojo Concerts realised the need to make events safer and developed the first ever stage barrier.
"Initially developed for the company's own use we were soon getting requests from some of the world's leading acts including Prince, U2, Rolling Stones and Metallica whose production teams were also starting to pay more attention to health and safety standards."
Since then Mojo Barriers has gone on to supply countless events. Product development has also been key to growth, with the introduction of the lighter aluminium barrier, line up gates and most recently the intelligent turnstile system Gatekeeper 2.0, which incorporates ticket scanning capabilities.
"But there is more to it than the products," continues Cees. "A stage barrier on its own isn't enough, although it is a huge step forward from where the industry was 25 years ago. The industry has moved on a lot; production teams and event organisers realise the importance that stage barrier layout has on the inherent safety of audiences and performers at their events, and now engage us from the early planning stages.
"We've moved on from being a commodity and are now a service provider, analysing site layout, audience demographic and event genre to predict crowd flow and ensure the safest possible configuration."
Mojo has expanded considerably in the last 25 years, opening its UK (London) office in 1998, USA (Colorado Springs) in 2003 and Australia (Sydney) in 2012. It also has a network of international distributors in countries including New Zealand, Finland, Norway, Denmark, France, Spain and Japan.
The team is a familiar sight on some of the world's best known festivals, events and tours including TomorrowWorld, Creamfields, Lollapalooza, Big Day Out, Metallica, Beyonce and Taylor Swift to name just a few, as well as working with councils, sports and corporate clients.
Cees concludes: "Mojo Barriers has remained at the forefront of the sector, despite the marketplace becoming increasingly crowded. I believe the reason for this is simple – it's our close relationship with the industry meaning we're tuned to their requirements, our consistently evolving product portfolio and our experienced, professional project managers and crew."
Mojo Barriers' Gatekeeper 2.0 UK debut at NFL Tailgate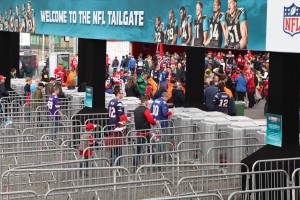 Mojo Barriers unveiled its new 'Gatekeeper 2.0' for the first time in the UK at the NFL Tailgate Party, Wembley, Sunday 27th October 2013.
The crowd control specialists used the intelligent turnstile system to keep an accurate count of the 30,000+ NFL fans as they made their way onto Wembley's car park where the event was held. The 36 Gatekeepers were used to create a solid entranceway to the site, with two more used for VIPs.
Kevin Thorborn, Mojo Barriers' UK general manager, comments: "The Gatekeeper 2.0 allows event organisers to gather accurate, real-time data on crowd flow and movement, ensuring their maximum capacity isn't exceeded. For sites such as this one, with no existing infrastructure, it's an ideal solution, giving a practical, attractive entranceway and access to important health and safety figures."
For this event the Gatekeeper 2.0 was used just for counting crowd numbers, linking to Mojo Barriers' specially-developed centralised computer system. The Gatekeeper can also incorporate scanning technology including RFID, QR and bar codes, offering a one-stop entrance solution for event organisers, as demonstrated at the 50,000 capacity Graspop Festival in Belgium earlier this year.
Kevin continues: "With the rise in RFID technologies and mobile phone QR codes we see the future of events moving into digitalised ticketing; the lure of data and marketing/social media integration has a wide appeal commercially as well as the practicality of having an entrance/exit system which is self-sufficient. The Gatekeeper 2.0 offers the hardware to host these scanning technologies and make them practical and easy to deploy on an event site. It reduces fraud and cuts down on the need for as many security staff as they are no longer required to manually scan tickets."
Laura Armstrong, senior production manager at Wasserman (previously Ignite), which organises the Tailgate on behalf of the NFL, commented: "We have organised two Tailgate's this season, each in a different location around Wembley Stadium, and we have three next year. It can be difficult to predict how many people are going to attend – it's very much dependent on external elements such as the weather. 
"The Gatekeeper allows us to get accurate information and real time data every hour of how many people have entered the site, which helps to understand both fan demographic and traffic. Having this constant knowledge is extremely reassuring, both on event day to ensure we don't exceed capacity, but also to shape the future of the event. It helps make the whole process smoother."
The Tailgate Party gave fans a chance to see game demonstrations, NFL cheerleaders, experiential activities from sponsors and partners and enjoy food and drink before the game. The event is the UK version of the traditional US Tailgate which sees American fans BBQ-ing in stadium carparks pre-game.
Later that evening the San Francisco 49ers scored six touchdowns during a 42-10 victory over the Jacksonville Jaguars.
Mojo Barriers Australia heads to Southeast Asia with Metallica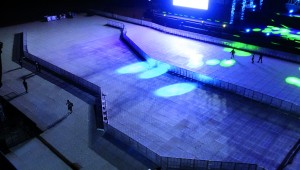 Mojo Barriers' Australian office was called in by Metallica to provide extensive stage barriers for the Southeast Asia leg of the band's Through the Never tour, 21-25 August 2013.
The rock legends played Stadium Merdeka in Kuala Lumpur, Malaysia and Changi Exhibition Centre in Singapore before heading to Gelora Bung Karno Stadium in Jakarta, Indonesia.
Metallica's last show in Indonesia was in 1993, when they were touring their fifth studio album 'Black'. At the peak of their popularity, the hype surrounding the concert resulted in the crowd rioting.
Two decades on, and the bands first time back in Indonesia, Metallica's production teams contracted Mojo Barriers to design  a bespoke barrier configuration using its patented aluminium system, which was then adapted  for the other two dates.
Cees Muurling, Mojo Barriers' managing director, says: "Safety for Metallica has always been paramount, but more attention than ever was focussed on these dates due to past incidents. We have a very longstanding relationship with the band and production, ensuring the highest level of safety for audience, crew and band members.
"We have supplied nearly every single US, Europe and Middle East tour dates for many years now and our recently-opened office in Australia (established October 2012) meant that we are now logistically better able to service tour dates in Southeast Asia too."  
The Mojo Barriers Australia team, led by project manager Craig Edwards, provided one system for Kuala Lumpur and Singapore which consisted of 226 metre-long sections. The system included gates and corners so its shape could be adapted for the needs of each venue.
Malaysia:  For the Kuala Lumpur date Mojo worked with organisers Galaxy to create a configuration that would cater to three different ticket sales. Mojo demonstrated how barriers can be used to safely and easily section off individual areas, creating a 2,000-capacity VIP pit in front of the stage, a curved line behind this for the 2,500 mid-level tickets with the remaining 4,000 capacity from front of house (FOH) back. Total capacity for the gig, including tiered seating, was 25,000.
Singapore:  The Singapore date offered two ticket prices, with Mojo Barriers configuring an open passive D in front of the stage to hold 15,000 with a straight line running behind the FOH tower to create a safe area for a further 15,000 fans. Client was Lamcproductions.
Indonesia: The Jakarta show saw Mojo work with Black Rock Entertainment and add an additional 88m added to the stage barrier system. With one ticket price for the entire 25,000 capacity standing crowd (total show capacity 54,000), an open passive D shape was installed. The first line was located in front of the stage security pit with a further two lines angled 16m apart to encourage an even crowd flow, whilst maintaining sight lines of the stage.  
Craig Edwards, Mojo Barriers project manager, comments: "Having the equipment based in Australia, and it being out of our main festival season meant we were able to supply a large amount of equipment quickly and efficiently, meeting some very tight time constraints.
"It's coming up to the first anniversary of the Mojo Barriers Australia office and it has been a huge success. These dates in Southeast Asia demonstrate the impact our expansion has had not just on the local Australian market but also surrounding countries which now benefit more easily from Mojo Barriers' trusted crowd control knowledge and products."