May 2008 Kenny Chesney uses Mojo Barriers for first time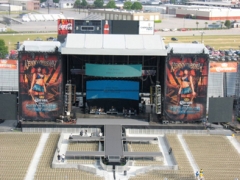 As America's top grossing country and western star, Kenny Chesney has traditionally preferred to stay close to his audience and opted not to use a crowd barrier system. However, his stage act is now so spectacular that he took the decision to deploy a large Mojo Barriers system for his current US tour, to ensure audience and staff safety.
The decision is linked to Chesney's use of an elaborate "Double T" stage, which sees two catwalks project either side from a central runway into the audience. "The thrusting stage allows him to interact with the crowd in a personal way." ays JB Dolphin, Mojo Barriers' US Manager. "The artist and his production team were concerned with crowd safety and approached us to discuss practical approaches to securing the stage and forward audience areas.
Mojo Barriers is providing 500 feet of barricade for the stadium shows, with smaller systems in place for the different style shows in arenas and clubs which Chesney has built into the tour.
JB Dolphin believes that Country and Western music is increasingly embracing the large production ethos pioneered by rock music and that other artistes will follow in Kenny Chesney's footsteps. "Country music is getting more popular and is finding its way onto pop radio, which will translate into larger crowds at bigger shows. I am confident other Country and Western stars will recognize the importance of protecting their audiences with crowd barriers in this way.