July 2012 Mojo Barriers move into the Spanish market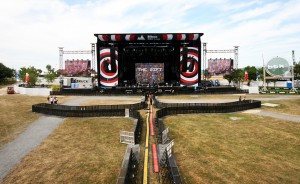 Mojo Barriers has expanded its European capabilities, providing its crowd barriers and consultation services to support touring and local promoters across Spain.
Marking its presence with a series of the region's most well known festivals Mojo is working with promoter Last Tour International, supplying Sonisphere (25 – 26 May), BBK Bilbao Live (12 – 14 July) and En Vivo (27 – 29 September) where it will be installing its patented Barrier Load Monitoring System (BLMS), which includes sensors to monitor crowd pressure.
Mojo Barrier's extensive product range and stock inventory has enabled them to work closely with production manager Eneko Gurrutxaga to create custom configurations for each site. For BBK Bilbao Live Mojo design and install a barrier layout for the main stage utilising 240 units of standard barriers, specials and corners incorporating two mega exits to aid the flow of 30,000 festival-goers excited to see headline acts including The Cure, Radiohead and Garbage. 
Eneko commented: "No local company has the types of barriers and specials that Mojo has in stock or the knowledge of crowd dynamics. They simply can't make the configurations we need, and we're pleased to be working with Mojo Barriers across all our main festivals to improve safety for crowds, crew and artists."
This summer is Mojo Barrier's first year working within the Spanish market and marks an important step in the company's international expansion.
Cees Muurling, Mojo Barriers managing director, commented: "We have a shared ethos of safety and have been impressed by Eneko and his team's commitment to welfare and crowd management.  We're looking forward to continuing our work with Last Tour International and other clients in Spain to improve standards of safety across the region and give event organisers access to more choice when it comes to crowd control solutions."