Sep 2007 Mojo Barriers provide "gold standard" for The Police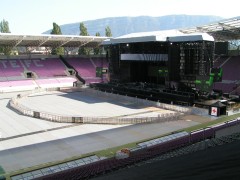 With one of the fastest-selling tours this year on their hands, The Police needed to know that their audiences were in safe hands when it came to the provision of crowd safety barriers.
The market-leading company Mojo Barriers was a natural choice for the band's tour production director, Charlie Hernandez. Speaking at the one of The Police's concerts at Twickenham, UK, he enthused about the quality of the company's products and installation service. "Mojo Barriers are the gold standing in the (live music)industry." he said.
The company installs 300 meters of its aluminium Mojo Barriers at all European shows. The set-up is a classic front of stage barrier system with a secondary barrier in the shape of an arc, to segregate the audience and decrease loading on the front-of-stage barrier. The system was equipped with eight "line up" gates to safely control the flow of the crowd in and out of the secondary barrier.
Headed up by crew boss Jeroen Tap, Mojo Barriers also installed barriers around the mixing positions and delay towers in the crowd. 
Mojo Barriers provided the band's aluminium Mojo Barriers for the shows in the US earlier this year and will continue to supply The Police with their product for the upcoming shows in the US South America, Australia, New Zealand and Japan.
"Major tours like The police are always a challenge for Mojo Barriers," says managing director Patrick Jordan. "Crowd management standards are continuously evolving and we, as a company, have to ensure we can offer the very best facilities for these high profile concerts."