MOJO BARRIERS ENTRUSTED BY MCBUSTED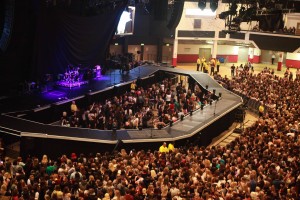 Mojo Barriers is keeping McBusted's screaming fans safe as the British supergroup heads across the UK on its first ever arena tour.
The tour sees members of boy bands Busted and McFly join forces to perform hits from both of their back catalogues, including Air Hostess (Busted), Five Colours in Her Hair (McFly), What I go to School For (Busted) and Shine A Light (McFly).
Originally planned for just 11 dates, it's now on the road for 34 in total, running until June 2014. Mojo Barriers has been contracted by Live Nation's promoter's rep Max Burnham from iBurnham Ltd, to provide the safety barriers for every date.
 Kevin Thorborn, Mojo Barriers' UK general manager, comments: "Touring has always been an important market for Mojo Barriers internationally, and in the UK we've seen significant growth in the area this year, also winning contracts for Katy Perry, Justin Timberlake and Miley Cyrus.
"For McBusted we have a full time Mojo Barriers crew member – Kosta Chaparov – out on the road with the production team, ensuring smooth and safe installation at every venue. We work regularly in many of the venues already, which has been a great help in ensuring that we can load in and out quickly and play our part in keeping the smooth running of the tour. This is vital with so many back-to-back dates."
Working to CAD drawings Mojo is providing 48m of standard aluminium barriers and corners configured to form a golden circle which is situated inside the curved catwalk, alongside a secondary barrier line. A further 40m is used on the C-stage.
Max Burnham commented: "Mojo Barriers are the industry standard. They're the first people you go to because you know they're going to turn up, they've got proper, trustworthy kit and they've got people who have been doing it for years. They work well with touring productions because they understand the difficulties of running a show and work alongside you to overcome them. Kosta has been brilliant too; he's become part of our crew. Working with Mojo gives you peace of mind."
Lollapalooza gets a new layout with Mojo Barriers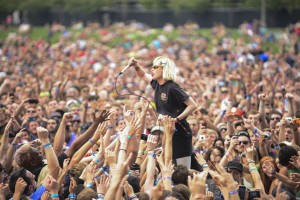 Mojo Barriers' US office designed and installed a brand new barricade layout at this year's Lollapalooza Festival, ensuring the highest levels of safety for audiences, crew and artists, 1-4 August 2013. 
Chicago's Grant Park became home to the festival once again with performances from The Cure, Mumford & Sons, The Killers and Nine Inch Nails keeping the 90,000 capacity crowds entertained.
The Mojo team worked with festival producers C3 and NPB Security to assess the site layout and predicted crowd movements, designing new configurations across the two main stages.
Mojo Barriers' US President, J.B. Dolphin, comments: "We used 660m of our patented aluminium barricade, implementing a new layout which consisted of a thrust leading to an off-center front of house.
"This not only improved the safety – giving additional space for security and crew – but also opened up the sightlines, ensuring the best possible views for the audience, which was one of our main aims when planning this year's event."
Mojo Barriers has supplied Lollapalooza for the past three years, and works with C3 to deliver other flagship US festivals including Austin City Limits.