Lowlands Festival counts on new Gatekeeper 2.0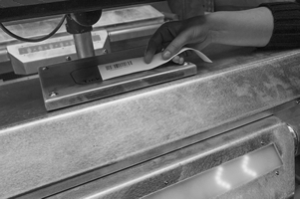 Mojo Barriers' new Gatekeeper 2.0 was put into action at this year's Lowlands Festival collecting data on crowd flow and movement, 16-18 August 2013.  
A Campingflight to Lowlands Paradise, also known simply as Lowlands, is held annually in Biddinghuizen in the Netherlands. This year saw Bullet for my Valentine, Chase and Status and Jake Bugg among the eclectic list of performers, which includes live comedy, theatre and film screenings. 
Mojo Barriers' Gatekeeper 2.0 is an intelligent turnstile system which incorporates full counting and scanning capabilities. It can be used for either or both, providing a complete entrance control system for clients. 
Thirty-four of the turnstiles were installed at the main entrance the festival, counting the 55,000 strong crowds as they moved across the site.
Cees Muurling, Mojo Barriers' managing director, comments: "We have a long-standing relationship with Lowlands Festival having worked closely with them to supply the barriers and crowd control solutions since 1992.
"It was the ideal event for us to trial the counting element of the system as a stand-alone service. It has provided an interesting insight into crowd predictability at the festival and the data we collect will help to fuel improvements to site layout and production decisions for the future."
The Gatekeeper 2.0 was officially launched earlier this summer at Graspop Festival where it was used for counting and scanning – linking directly with the festival's RFID-powered wristbands.