June 2012 Mojo Barriers expands with new Israeli distributor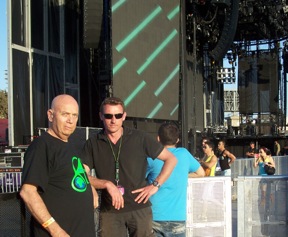 Mojo Barriers has expanded its international capabilities with the announcement of its new distribution patner based in Tel Aviv, Israel.
The stage barrier specialist has formed a working partnership with Safety Access, a company which pioneers higher safety standards across Israel. Established in 2011 it provides a host of security and risk management services to events and companies, including crowd management and health and safety.
The first contract of the partnership is the provision and installation of 400m of barrier for the opening date of Madonna's long-awaited MDNA tour which sees the pop star take to stage at Tel Aviv's Ramat Gan Stadium on Thursday 31st May. Safety Access is also in talks with other major music promoters and sporting events across Israel.
Rony Netzer, Safety Access CEO, comments: " We offer a triple factor in mass-crowd event management; safety, security and crowd control. We've also gathered a group of experts, each in their own fields such as safety and health, crowd management, auditing, VIP security et, allowing us to offer the complete package of knowledge, products and top-ranking experts to events across the country."
"We want to raise the bar in crowd safety and security at events, meaning it is vital that we partner with companies that have the same aims and aspirations as us. We're looking forward to the partnership and bringing Mojo Barriers' products and expertise to the Israeli market."
Mojo Barriers head office, based in The Netherlands, has provided Safety Access with a permanent stock of mixed aluminium, steel and bar barriers, which will increase according to demand. 
Cees Muurling, managing director, Mojo Barriers, comments: "The expansion into the Israeli market enables us to offer clients and tours within the area a more expansive product range, and a quicker, more efficient service due to the local on- the-ground capabilities. There's been a definite increase in major events across the Israel and Middle East region and the partnership with Safety Access will allow us to continue to build our presence and offer our trusted crowd management solutions."