Mojo Barriers keeps festival goers safe at Finland's first ever 'Rock the Beach'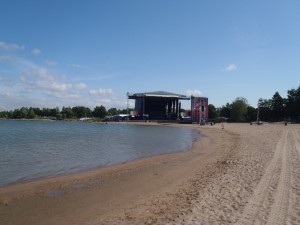 Mojo Barriers kept the crowd's safe with its generation two barrier system at the first ever 'Rock the Beach' festival, held on Finland's Hietaniemi Beach, 26-29 June 2013.
Over 51,000 people were on site to enjoy the inaugural event, with headliners Greenday, Queens of the Stone Age, 30 Seconds to Mars and Rammstein taking to the stage. Mojo Barriers' official Finnish distributor Roudaamo Event Warehouse installed over 300m of black aluminium barrier configured across three stages.  
Launched on Madonna's global tour last year, the barriers are slightly lighter than the original aluminium barrier system, fit 12 instead of 10 to a standard dolly – saving on truck space and manpower – and are proven to fit all ground types, making it the ideal choice for the festival's beach location with soft sand and sloped grounding.
Roudaamo has a trusted relationship with festival organiser's Live Nation Finland, spanning over 20 years. The team has been an official distributor of Mojo Barrier's products for three years. This year events have included Eros Ramazotti, Kiss, Pink and Mark Knopfler.
Juha-Pekka Maakannas , sales manager, Roudaamo, says: "Roudaamo supplies event services from staging to wardrobe and security to furniture. Adding Mojo Barriers to our services was a win-win for everyone. Their stock allows us to service any job – such as Rock the Beach – which needed lots of curves and doors in the configuration. This is easily achievable with Mojo's products.
"Any large-scale festival is great to be involved in, but to hold it in the heart of the city on Helsinki's main beach really made this special. The beach was mainly open during the construction, with general public watching so the highest levels of health and safety had to be observed at all times, more so than usually. The feedback from the press, the audience and bands was really positive; this first Rock the Beach was a huge success and Live Nation is now making it an annual event."
Leon van der Velden, account manager at Mojo Barriers, says: "We are proud to be part of this first edition of the beautifully-located Rock the Beach festival. We've had a busy few years with Roudaamo and are looking forward to expanding our presence in Finland even further with future editions of the event. Other festivals include Flow Festival in Helsinki next month, where we'll once again be providing crowd control solutions across the entire site."