3 Year Deal Secured With Roskilde Festival
Building on its 15 year relationship with Roskilde Festival, Mojo Barriers has secured a further three year contract to ensure artist and audience safety throughout the eight day event.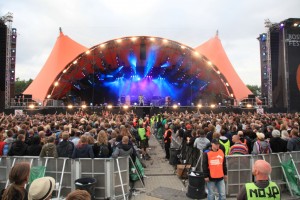 Roskilde Festival is one of Europe's most established large festivals, taking place in Denmark from 25th June- 2nd July 2016, with Mojo Barriers once again supplying its unique barrier configuration. This unique pen system splits the front of stage area into four pens, which are emptied between the bands, allowing organisers to control the number of people in the front of stage areas and divides the audience to prevent large crowd surges.
As well as the barriers, Mojo Barriers will also supply its proprietary Line Up Gates to enable Roskilde to operate its unique entry system, allowing organisers to control the flow rate into all the pens and give the security staff an effective monitoring system.
Mojo Barriers' Alex Borger comments: "There is a great health and safety culture at Roskilde and we've worked closely with organisers to develop a barrier configuration which provides optimum safety to festival goers. This three year contact is testament to Roskilde's commitment to crowd management and we're looking forward to expanding on our long-term relationship with this brilliant event."
Roskilde Festival will see 175 acts perform over eight stages, including New Order, Mac Demarco, Sleaford Mods and Foals.
July 2011 Safety First at Roskilde Festival 2011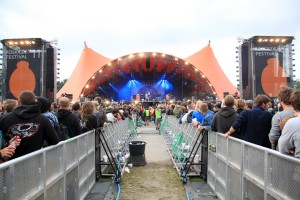 The live production industry is never short of opinions on the best way of doing things. But there are few credible, scientific research projects that collate international data to put evidential weight behind these opinions. That is the aim of a new research programme TPi caught up with at this year's Roskilde Festival. 
Roskilde Festival in Denmark was put on the map for all the wrong reasons in 2000, when nine people died during a crowd crush. The festival organisers have worked tirelessly since then to ensure the highest standards of safety across all areas, not least when engaging (the late and sadly missed) Patrick Jordan of Mojo Barriers to design the safest possible front of stage barrier configuration.
These barriers separated this year's audience from headliners including Iron Maiden, Arctic Monkeys and Kings of Leon, who entertained the 80,000 sell out crowd from 30 June – 3July, along with an expansive artist line-up spread across six stages.
Roskilde's festival manager Henrik Bondo Nielsen dedicated much time and resources after the events of 2000, accessing information via trade associations such as the PSA, and conferences such as the ILMC, in a bid to try and find verified ways to improve safety – but it was slow going, with a dearth of real data.  
In 2006 the festival organisation team embraced the opportunity to host the collaborative research programme that combines Mojo Barriers' innovative Barrier Load Monitor Systems (BLMS) with New Bucks University crowd pressure research.
The revolutionary research programme offers scientific evidence – for the first time – about what barrier configurations are safest for different venues and audiences, and gives a valuable understanding of how to use crowd dynamics to create safe spaces. 
Henrik told TPi where it all started: 
"We hoped to raise funding for research projects as there was no scientifically valid information to say 'this is the safe way to do it', when we asked the question after 2000. But there were no obvious funding routes so we searched out like minded partners. 
"Mojo Barriers had started using its BLMS sensors with Melvin Benn at Reading and Leeds festivals and Penny Mellor, who was on a European Festival Safety Focus Group, introduced me to Chris Kemp (Pro Vice Chancellor BNU), which is how we heard about the programme. We invited Mojo Barriers and BNU to Roskilde and started refining the research." 
Mojo Barriers' BLMS measures the force applied to a section of barrier by a crowd at an event. It comprises of an innovative system of pressure sensors, built in to the load bearing arms of the barriers, linked via ethernet to a computer. The whole system is totally unobtrusive to personnel working in the pit and has been carefully designed to be practical in a concert or festival environment.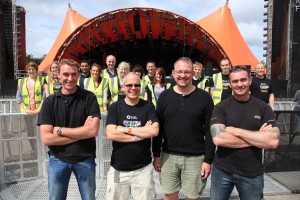 Cees Muurling, managing director at Mojo Barriers, said:
"We have consistently focused on ways to improve safety at concerts and festivals and I'm delighted we've been able to engage in this exciting new research correlating the effects of pressure at the stage barrier and pressures on people within the audience. 
"Crowd safety is all about what could happen; planning for incidents and for artists doing the unexpected. There is a common goal (with Henrik and Chris) of wanting to improve understanding of this and have data supported models on crowd dynamics, which is vital to running a safe event; especially when it comes to venues and festivals which deal with large and unpredictable crowds. 
"Until now decisions regarding barrier positions (and wider site design) have been down to best practice, opinion, and first hand experiences of the event organisers, site managers or barrier suppliers. Looking at some events I'm not sure how much time is spent on this process." 
Roskilde has a unique six pen barrier design in front of the main 'Orange' stage. This year, 34 BLMS barriers were integrated into key positions around the standard front-of-stage Mojo Barrier system, and recorded the force on the barrier for all of the bands. 
Cees explained: "We analysed the pressure readings from BLMS and could see major peaks in the audience's behaviour. They generally occur in the first half of the set as people tire as the gig goes on. 
"We've also seen that small changes in the angle of the curves in corners can affect the readings we get, so we know the optimum designs at Roskilde." 
The standard BLMS set up, combined with BNU's sophisticated crowd safety research, has been used at previous Roskilde Festivals, but this year the research went further and added CCTV and pressure suits to its repertoire – offering an opportunity for more detailed analysis. 
Henrik continued: "To gain a full picture alongside the BLMS readings we filmed the audience and had a commentator explaining what was happening on stage (as we're not allowed to film bands) so we could correlate audience behaviour with what the band were doing. 
"This year's research also used six students all with pressure suits on, which were evolved by BNU over three years, based on flexible plastic tubes with pressure sensors in-built. We placed students into a grid so we could identify where they are, and also attached a temperature gauge to each suit. 
"We have used this data to redesign the barrier pen systems. This year we've changed the size of the audience pens to spread the pressure equally and previously we'd gone from one mixer tower to two front-of-house positions."   
Parties involved in the research admit that no amount of scientific evidence will guarantee that incidents won't happen, but that making the effort to understand and collect data on as many elements of crowd dynamics as possible is vital for a better understanding.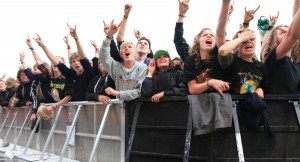 Cees said: "The science has to be there to support the knowledge and experience of the barrier and security professionals to help them make the right call on what barrier layout should be employed and what capacities should be allowed. We're hopeful that more event producers will join us in gathering data at their events.
"The wider the spread of sites, and the more data we have, the better our understanding will be of which barriers are more suitable for which audience. Plus it's the ideal way for event producers to check their barrier layout, or for real time information to be relayed to the head of security."
Henrik agrees, admitting many existing guidelines on such matters can cause more harm than good; "What some licensing councils don't understand when setting capacities is that they can sometimes make it more dangerous by having limits in pits too low. There will be people trying to get in if they can see there's loads of space. Using our research we vary that audience capacity depending on the audience demographic and expected behaviour." 
Safety is a priority for all live events and Mojo Barriers and BNU's research is certainly a big stride in the right direction, with other players following suit. The Fran Hoffer Institute in Germany is currently developing a video camera trained to recognise behaviours in a crowd, which will eventually be used in conjunction with the Mojo Barriers/BNU research programme.
Chris Kemp, BNU, said; "The research programme is being rolled out across the globe over the coming years and we'll be correlating and analysing the results, aiming for a detailed database for future use.
"We're hoping to get a host of other European and USA-based venues and festivals to participate, as well as looking at furthering the scope of the research through additional complementary technologies. Dr Keith Still of BNU is in the later stages of developing a computer model which predicts the forces and pressures on barrier configurations in different atmospheres and when exposed to different elements."
July 2008 Mojo Barriers are at the heart of Roskilde Festival safety systems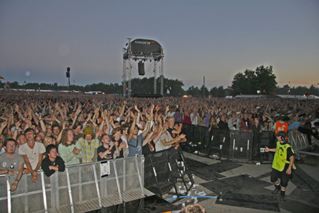 From humble beginnings in 1971, a fledging festival was taken over in 1972 by the Roskilde Foundation, which has since run the festival as a non-profit organization for development and support of music, culture, and humanism. The festival continued to grow to become one of Europe's largest and most prestigious events today.
But as with many success stories it has had its low points, most notably at the 2000 festival, when nine fans died in front of the main stage in a crowd crush in muddy conditions. The accident was thoroughly investigated and documented and led to a cathartic overhaul at all levels. Since then the festival has not only continued, but flourished. 
The varied programme in 2008 included The Chemical Brothers, Neil Young, Radiohead, Gnarls Barkley, Duffy, Kings of Leon, The Dillinger Escape Plan, The Streets, and The Tivoli Symphony Orchestra.
Roskilde General Manager Henrik Bondo Nielsen has worked at the festival since 1980, when he started out as a volunteer garbage collector. By 1998, he had become Festival Manager and has played a key role in introducing the many safety improvements that have taken place since 2000. Perhaps the festival's biggest contribution to crowd safety has been the development of a barrier system which divides the audience into pens, an idea that was launched in 2001 and which has developed into today's "four pen" design.
"After the accident in 2000 we met experts throughout Europe to discuss ways of preventing anything like that happening again.' says Henrik. "These included The Security Company in Holland, Mojo Barriers and Stageco's Hedwig de Meyer. With the support of the international festival community we introduced many initiatives focused on people's experiences and well-being at our festival. We also tried hard to ensure the unique spirit of Roskilde Festival has stayed at the core of the event."
The immediately visible changes evolving from these discussions included a new stage with video wings, giving a better visual experience and reducing the need for the audience to push for a better view. The PA was improved and the organizers divided the audience up into four separate pens, preventing large crowd surges and controlling the numbers of people in the front of stage areas.
Additionally, audiences now have to queue separately for each main stage band and leave the pens once the act has finished, carefully controlling the audience's ingress and egress from the main live music arena. "This way, we have easy access to the audience, keep crowd density at a sensible level and each pen can be individually evacuated," Henrik says. "A new refinement in 2008 was the inclusion of a disabled users' platform inside the barrier. "In conjunction with the local Fire Brigade, the festival also installed a system to film the opening of the festival so that organizers could monitor the amount of people entering. 
Underpinning these developments are good relations with the local authorities and emergency services, which have seen a co-ordinated approach to safety. " Words like risk-assessment and documentation used to be rare in Denmark but now they are common practice." says Henrik. "we've had a good relationship with the local authority since 2000, creating a network with all the emergency services. We have produced a Danish version of 'The Purple Guide', bringing organizers closer to the authorities and raising the profile of health and safety. 
From 2001 onwards Mojo Barriers' Chairman Patrick Jordan has worked closely with the organizers to develop the barrier configuration in front of the main 'orange' stage, creating a very safe area for fans.
Patrick explains, "There is a great health and safety culture at Roskilde. Together we have developed a configuration of barriers so that the front of stage area is split into four pens, which are emptied between the bands. The pen system means that security can control numbers in front of the stage. The crowd managers can stay very close to the audience for monitoring and recovery, while the barriers obviously break any big surges." 
Leon van der Velden was Mojo Barriers' Project Manager. He arrived on site on the Tuesday before the event with three other Mojo Barriers crew. With the help of 20 local (volunteer) crew they installed over 1,000 meters of aluminium Mojo Barriers, including the company's ground-breaking Barrier Load Monitor System (BLMS), which offers real-time measurements of crowd pressure. 
Leon says: "There were quite a lot of special pieces due to the unusual configuration of the barrier system employed at Roskilde, so it was essential that we were well organized at both ends – in term of loading the equipment in De Meern, Holland, and then through the sequence for building, although we'd allowed plenty of time to construct this unique system and get it tested and wired up with the BLMS. Initial readings on-site showed no alarming crowd pressure peaks. W checked the barriers every morning for any movement but they were fine through-out the festival." 
As well as the barriers, Mojo Barriers supplied their proprietary Line Up Gate system enabling Roskilde to operate its unique entry system for festival fans. The Mojo Line Up Gates control the flow rate into all the pens and give the security staff an effective monitoring system.
Steen Bechmann, Hed of Security and Health and Safety at Roskilde explains how the system has been developed in 2008. "Every year we make changes," he explains. "This year we have added Mojo Barriers Line Up Gates to control the ingress. We had up to 230 volunteers looking after the gates and the front of stage area. All our security staff have taken a six-lesson course to make sure they are competent and can treat the audience to the Roskilde experience. They learn the site layout, emergency procedures and the support procedures that we put in place.
"For our Health and Safety workers, the focus is on them and the audience 'Looking after each other'. So they are integrated into the audience and will encourage fans to be aware of each other's health. Health and safety is a stand alone department of the festival, running medical systems and emergency teams." 
Paul Jensen, Site Technical Manager, explains: "On the stages, production hardware has helped make the festival safer and more spectacular over the years. The introduction of screens and delays several years ago meant there was less pressure to get to the front to enjoy the experience. The latest innovation in 2008 has been to replace the 15-year-old Turbosound Aspect with JBL Vertech line array. While the principle motive for this has undoubtedly been aesthetic, the system's renowned ability to focus sound ensures both that sound levels can be better controlled (and, as such, less likely to damage hearing) while ensuring that people at the back get as high a sound quality as those in the front."
"It's like 1968 again," says Henrik Rasmussen, Managing Director of Roskilde. "Look after yourself and each other! Roskilde has always enjoyed a good proportion of international visitors (in some years making up 50% of the 80,000 strong crowd). I think this is because we place our audience at the centre of what we're doing, from the moment they arrive on the camp sites the Sunday before the festival starts, through to getting a great line up and creating an overall great festival experience – we call it the orange experience!'