July 2010 World Cup Final Celebrations with Mojo Barriers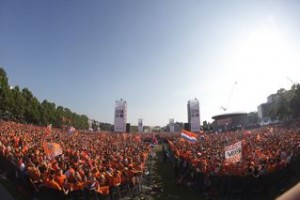 Mojo Barriers' was appointed to help create two safe 'Fan Zones' as public celebrations reached fever pitch in Holland this July (home to Mojo Barriers' international head office). 
The Dutch football team made spectacular progress through the 2010 FIFA World Cup tournament to the final, possibly a little further than most people had anticipated, which is why there were some late calls made to accommodate the increased numbers of fans for the free public screenings. 
There was a great demand by the football loving Dutch to watch the final on Sunday July 11th and subsequently welcome the team home and celebrate their runners up position to Spain. 
Following consultation to create safe crowd management procedures and infrastructure to support event security operations, Mojo Barriers installed 850m in the Museumplein (Museum square) in Amsterdam, where five giant video screens attracted a crowd of 100,000 on 11th July. The layout was reconfigured, with 1,200m of Mojo Barriers installed (including two VIP areas, capacity 3,000 each) for the homecoming on 13th, with 10 video screens and crowd estimates between 120 and 150,000. 
The screening was a production of Radio 538, whilst the public celebration on July 13th was initiated by the City of Amsterdam together with the KNVB (Royal Dutch Football Association)with Radio 538 as the producer of the event. 
The production started on the Wednesday July 7th before the final, when the call came in. The client had the first meetings on the Thursday, the Friday was the start of the actual build of the site, with load-in of the barriers on the Sunday morning, an adding the extra barriers on the Monday. Gertjan van den Berg (a.k.a. Iceberg) and Roderik Versnel of Sightline Productions were head of the technical production team wholiaised closely with Mojo barriers to ensure that the public city centre square was prepared accordingly to provide a safe venue for the football fans. 
Iceberg commented:
"The only way to pull off a production of this scale with such short notice, was to work with suppliers we work with regularly, with experience and capability we can trust: Mojo Barriers is of course one of them and we were very happy that they could deliver this massive amount of barriersin such short amount of time, creating a safe event for crowd numbers we have never seen before in The Netherlands."