Mojo keeps the crowd's safe at open air Muse gig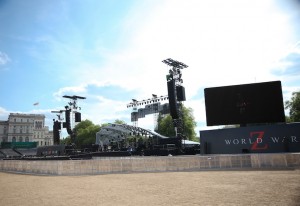 Global stage barrier and crowd safety company Mojo Barriers supplied a 300 metre stage barrier system for a one-off performance by Muse – part of the UK premier of Brad Pitt's latest film World War Z, 2nd June 2013.
Taking place at the iconic Horse Guards Parade, Mojo Barrier's UK office supplied its trusted aluminium system across the entire site; ensuring the safety of the 15,000-strong crowd.
Mojo Barriers worked with production managers Steve Nolan and Daria Drazkiewic from Chromatic Productions (on behalf of organisers Live Nation and Paramount Pictures) to design and install a bespoke barrier configuration.
Jim Gaffney, Mojo Barriers UK manager, comments: "The main element of the design was a golden circle area following the line of the Z-shaped stage, giving the first 500 lucky fans close up views of the band. Our specialist corner sections enabled us to create a very clean finish within a confined space which also incorporated enough room for security personnel and media to access the areas they needed."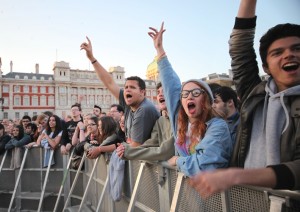 The team also installed barriers to section off the VIP area, which housed red carpet stars including Brad Pitt.
Mojo Barriers six-strong crew led by Greg Johnson, worked to very tight deadlines due to noise and vehicle curfews in place at the site.
Muse performed a 45 minute set, including songs from all of their past albums, plus songs from the new World War Z soundtrack.